November 2016 Entrepreneur Night (Beachfront Grille)
November 29, marked the last Entrepreneur Night for 2016 with an event in Flagler Beach.
Just under 100 local business owners, entrepreneurs, and small business supporters congregated at Beachfront Grille to enjoy a superlative evening of networking and great food!
The fact that the event fell just four days after Thanksgiving offered a rare chance for reflection on both the successes and low points that took place during an unusually tumultuous year.
Because of that, we decided to focus our questioning on explicitly that, and we recorded a selection of some of the more insightful answers we received below. After all, moments like these are fleeting for the business owner.
The Beachfront Grille served as the perfect venue to mark the occasion, as it was the perfect embodiment of this sentiment. Situated on A1A and fronting the water, Beachfront bore witness to both the ruination and quick revitalization that beset our prized beach and local business community in the wake of Hurricane Mathew.
If you remember, State Road A1A was left looking like a half-eaten cookie; our picturesque dunes had been completely dredged up; and many homes and businesses sustained serious roof and water damage. But sure enough, in the just about two months between the storm and our event, we had roads, we had business, and we had a beach!
Enjoy the answers below. Maybe one of them will inspire a New Year's Resolution. We look forward to seeing all of you in 2017!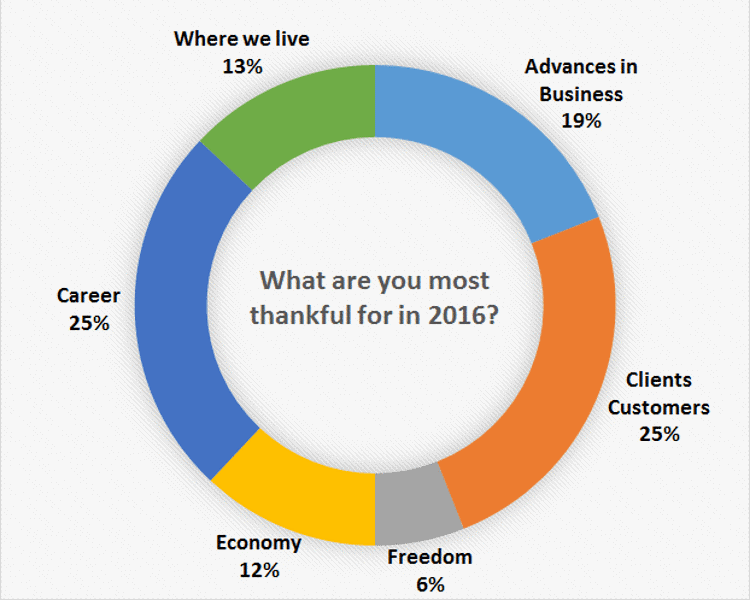 "I made more money than I've ever made in my entire life–not more than each year combined, but more than I did during each individually…I set the vision that 2016 would be my best year and I accomplished that…"
~ Phyllis Moor
Business Broker–Florida Business Exchange
That was Phyllis' experience in 2016. She's in a good place. Where as Mark Woods, Owner of Fun Coast Bartending and co-owner of the Humidor Cigar Bar and Lounge, had a more mixed outlook in 2016.
What was Mark thankful for in 2016?  |  "On a personal level, the Chicago Cubs winning the world series…  Relating to business, 2016 was a little rough as far as business goes, but I managed to maintain two flourishing businesses." In the first half of November, Woods had 11 Fun Coast events while he continued the day-to-day operating of the Humidor. Yet, he still managed to find four days to take a vacation. "It feels good to know that you've reached a point where you're at the level."  How about his Low Point?   | "New FDA rulings requiring the Humidor's cigar products to be subject to tighter inspection. It was a hindrance to our business."
Onto Steve Gallagher, who is a banker and also the owner of —Hammock Wine & Cheese Shoppe.  What is he most thankful for in 2016? |  "I am thankful for the beautiful town that I reside in. Furthermore, Hurricane Matthew was not as devastating as in other areas–which was very fortunate."  How about High Point?  "Ending my career…"  
One of Office Divvy's own (Office Divvy organizes the Entrepreneur Night events), Jim Taylor also chimed in: "I am most thankful for the apparent upswing in the economy. There are signs of growth, which is excellent for the business community."  
What was Jim's High Point? | "The awareness of what Office Divvy does is amazing. We really have made a platform in this community for business owners."
Following is a visualization of how folks we interview rated 2016 as a year for business.  Our mean average for 2016 of businesses represented at November's Entrepreneur Night, on a scale from 1 to 10 was: 7.5.
Kim Sunshine is the Co-owner/Founder of Victory Popcorn. What was she most thankful for in 2016? | "This year, we are so thankful for our shop that we have been able to open. We started selling our popcorn at the European Village Farmers' Market. We were very successful at doing it there and we made a lot of connections there. But it feels nice to have a place that we can have as our own store."  How about her Low Point? | "Hurricane Matthew was definitely a low point for us this year. It did not directly affect us, but it did throw a wrench into many of our plans."
Hans Killian is the owner of Killian's Seamless Gutters and Screens.  What was he most thankful for in 2016? | "This year, Hurricane Matthew brought a lot of growth to my business. While it was a catastrophe, more people needed special services that I was able to provide."
Funny isn't it? One person's low point is another's high point in business.
Let's end these interviews with Angel Gonzalez (Chief Marketing Officer), and Brad DeLoatche (Chief Technology Officer) of Snappy Kraken, a new Startup.   Snappy Kraken was also the winner of Office Divvy's inaugural "Most Interesting Startup Contest."  Here's how they answered these questions…
What are you most thankful for in 2016? (Angel)

"Starting our company. We started in April of this year and I am thankful for having partners who I see eye to eye with and who didn't let risks or worry hold them back from actually acting. I think that attitude is what allowed us to take that first initiative to actually start something."
Low Point? (Brad)
"Shortly before we went out to California to a competition we were accepted into, we were in the super early stages of putting our business together. We were supposed to go to this competition and share a bunch of information about ourselves and what we've done with many high-profile people. I remember explicitly how at one point I was panicking because I thought we had rushed into this competition without thinking everything through. I felt burdened by the pressure and expectations that everyone was placing on us. However, that was quickly remedied and we ended up winning the entire competition."
Enjoy this video from the event…