April's Entrepreneur Night was held at Farley's Irish Pub located at European Village in Palm Coast, attended by over 130 people.
Following companies have been recognized for their contribution to April's event:
Participants represented a cross section of Startup-Founders, Entrepreneurs, Aspiring Entrepreneurs, Investors, and folks who provide support and services to Entrepreneurs. Most of the participants for the event were from Flagler Beach, Palm Coast and Bunnell, but a dozen folks also came from Ormond Beach, Daytona Beach, and St. Augustine.
Multiple entrepreneurs made elevator-pitches to an open and interest group on, and off-camera.
The event was also attended by multiple Flagler County candidates running for office, including John Pollinger for Flagler County Sheriff a republican candidate, as well as Jim Manfre and Karl Tozzi who run as democrats in the same race; and Don Appignani for Flagler County Judge as well as Melissa Moore Stens.
A congressional candidate was also present at the event: Heather Beaven, an entrepreneur herself who is running for United Stated Congress in 2012 made many new connections, and discussed the current state of economy in Flagler and Volusia Counties and beyond with entrepreneurs.
Continuing with the tradion of honoring a non-profit at the event, April's featured non-profit of the month was United Way of Flagler/Volusia Counties.  The non-profit was honored particularly for providing Financial Education to residents in both counties, and was represented by Alicia Casas –Assistant Director Resource Development for the organization.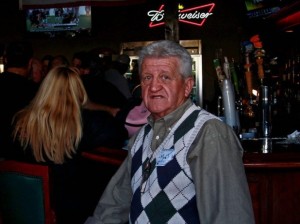 Farley's Irish Pub has been a terrific host!  Farley's has just recently relocated from their old Palm Harbor Shopping Center location to the European Village, with a grand opening celebrated only a few weeks prior to the Entrepreneur Night event, by St. Patrick's Day.  Owners Mort and Jerry, as well as bartender Krystina and other staff have all worked very hard serving a large, thirsty crowd.
Mezzaluna Pizzeria in European Village catered the event, setting up a rich, delicious buffet displaying their talent in Italian food.  European Village continues to be a great setting for the Entrepreneur Night events.
Flagler County B2B Expo Full-Ticket Awarded to Peggy Fried
Peggy Fried, an independent health and life insurance agent based in Palm Coast won full-participation ticket –a raffle item donated by the Palm Coast Business Assistance Center for the 2012 B2B Expo which will take place in Flagler County on November 2nd.

April's Entrepreneur Night in the News
April's Entrepreneur Night has received extensive coverage with an article featured on the cover page of the Business Section of Daytona Beach News Journal on April 28, 2012.  Click on the link above to read the article.
* * *
Entrepreneur Night is a grassroots event for an by Entrepreneurs, which takes place the last Tuesday of each month –except July, August, and December at a different location and venue.  It is free to attend.  Complimentary appetizers are provided by the venue hosting the event as well as a cash bar.  In each event you can expect to meet many new entrepreneurs, investors and service providers; and have meaningful conversations.  You can check out the previous Entrepreneur Night events |  or RSVP to the Next Entrepreneur Night Event.
---
photo and video credits: Images by Tasia | David Royall | Ky Ekinci