April 2017 Entrepreneur Night was hosted at the My 5th Element Indian Restaurant located at European Village in Palm Coast, with 127 folks in attendance.
April's event was the 52nd Entrepreneur Night held since we pioneered the event back  in 2011. The event takes place on the last Tuesday of each month (except in July, August, and December) at a different venue location in Flagler, Volusia, or St. John's Counties.
April's event attracted a diverse crowd of entrepreneurs, aspiring entrepreneurs, as well as professionals who are in the business of supporting and servicing entrepreneurs.
"The most interesting outfit award" (no, we do not have such an award) went to Kim and Pete Sunshine, the co-owners of Victory Popcorn, a gourmet pop-corn startup.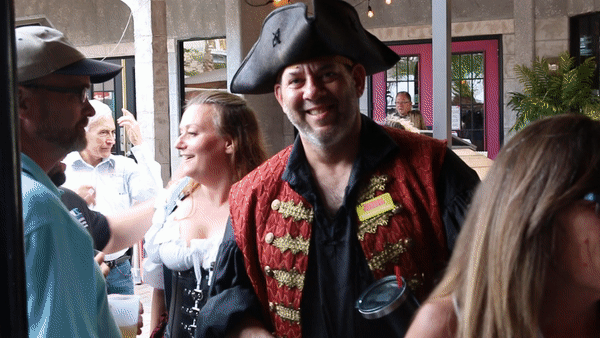 The Entrepreneur Night event continuously attracts many newcomers.  At April's event over 15% of the attendees were there for their very first time.
At our event, we seized the opportunity to poll attendees for their overall sentiment of the foreseen business climate in the United States in 2017.  We also ran the same poll on twitter, nationally.
63 people participated in the poll in person at the Entrepreneur Night event, vs. 192 on twitter.
Here's the poll and the votes from twitter.
What is your forecast for #Business in 2017?

— Office Divvy ™ (@OfficeDivvy) April 4, 2017
And he's the breakdown of votes from the Entrepreneur Night event: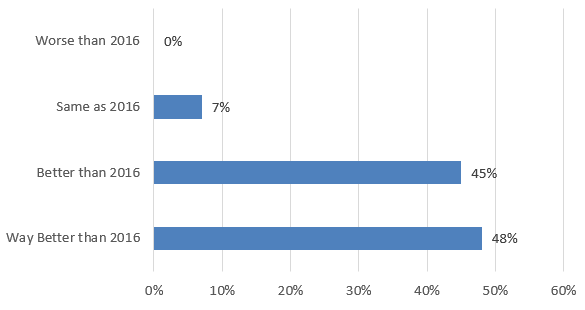 Not to politicize the results, but we can infer that the entrepreneurs are overall an optimistic bunch, as the sentiment for business predicted to be better in 2017 versus 2016 was very strong, both nationally and locally. However we've known the local area entrepreneurs to be negative on the area itself time to time, so seeing the "way better" answer stronger than anything else, perhaps we must politicize the results?
🙂
Here is a video capturing few moments from the event:

Entrepreneur Night is a grassroots event for and by Entrepreneurs, which takes place the last Tuesday of each month – except July, August, and December at a different location and venue. It is free to attend. Complimentary appetizers are provided by the venue hosting the event as well as a cash bar. In each event you can expect to meet many new entrepreneurs, investors and service providers; and have meaningful conversations. You can check out the previous Entrepreneur Night events or RSVP to the Next Entrepreneur Night Event