"People are Trying Really Hard to Find a Way to Find Some Peace"
It all started at Burning Man.
For the uninitiated, Burning Man is an annual event held each year in the Black Rock Desert, northeast of Reno, Nevada. It is a haven for artistic types and those who are invigorated by self-expression. It's also, for many buttoned-up types, a little odd. So, it serves as a perfect launching point for Christa Colletti of Deep States Vibrational Sound Therapy.
Note: If you didn't know about Burning Man, you probably don't have a chance with Vibrational Sound Therapy.
In her practice, Christa places Himalayan Singing Bowls along the back, shoulders, legs and neck of her clients and rings them gently to create both a soothing noise and subtle vibration.
"I found the sound it produced when you rang it absolutely mesmerizing," Christa said.
After the festival, Christa continued working in her day job for a couple of years, before seeing an advertisement about a class in Orlando. Now, she's a certified practitioner of the rapidly growing modality. She's also a member of the Vibrational Sound Association and just returned from a trip to Thailand where she and her group used the bowls at the Patara Elephant Farm.
The farm rescues and rehabilitates elephants who have been abused, abandoned or otherwise neglected. These are troubled animals who can be antisocial and even violent because humans have conditioned them to be that way. Groups like Christa and the Vibrational Sound Association are brought in to help the elephants relax during medical procedures.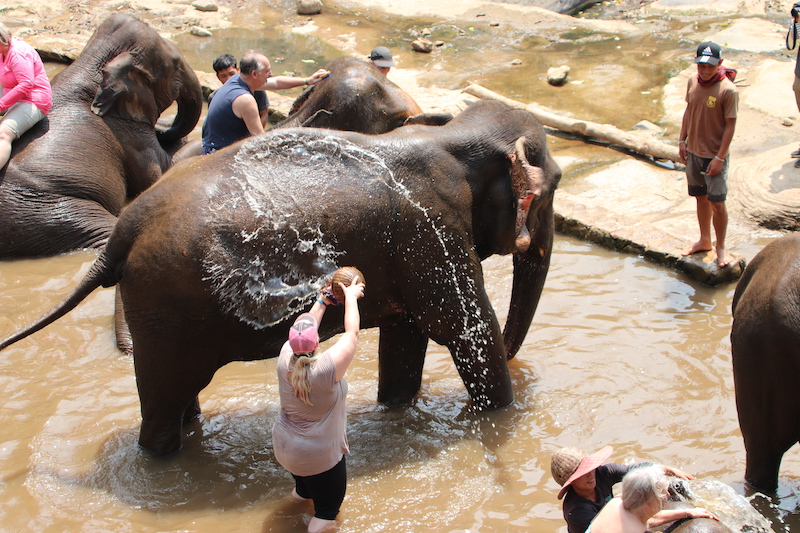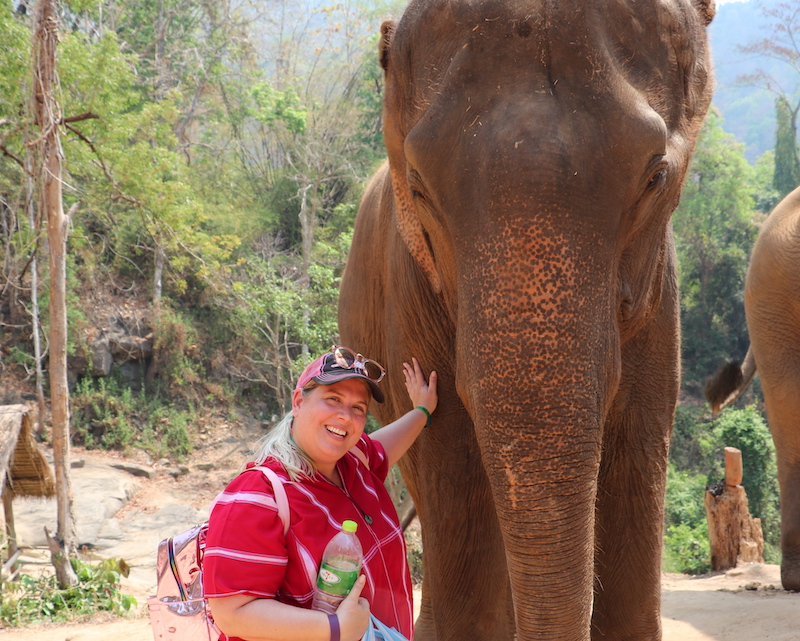 Christa, specifically, had a rewarding experience playing for a pregnant elephant who had killed previous babies during the labor process. As Christa played, the mother elephant nervously sucked on her tusk like a human might bite his or her lip. As the elephant relaxed, her nervous tick became less and less frequent. Meanwhile, another sound therapist played a bowl gently on the belly of the elephant, and the baby moved around.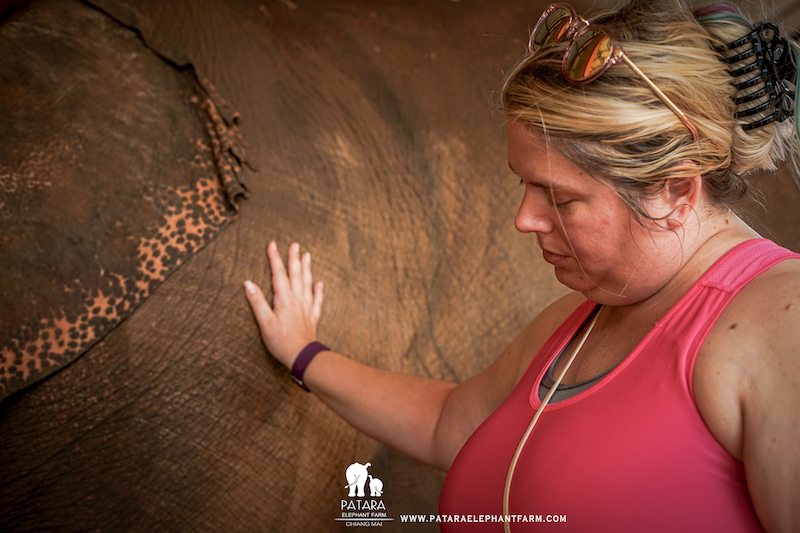 Another group of sound therapists played for a rambunctious "teenaged" elephant. The effect of their playing? After running around and around with no end to his antics in sight, he stopped to listen to their playing, and eventually calmed down entirely.
"I've Always Been in the Business of Service…Toward Helping Positions."
"I've learned more about what I actually want to be doing," Christa said, "which is empowering people and helping them live their best life. I believe in the power of relaxation to do that."
According to Christa, VST works by kicking in the parasympathetic nervous system and helping people relax. Brain waves begin to synchronize and harmonize with the vibrations of the bowls, pushing the body into a deeper restorative state than most clients otherwise thought possible.
People can make "woo-woo claims" about the power of the bowls, Christa said, but over the years, it's become a proven modality that can provide anything from stress and pain relief to helping alleviate issues with sleeping. It's even gaining traction in the Autism community as well as with many different animal groups, including horses.
Personally, I can attest to the relaxing power of the bowls thanks to a short session I signed up for in the fall. A natural skeptic but willing to try anything, I spent the first few minutes of the session noting that the vibrations weren't quite as strong as I had hoped and wondered how this could do anything at all. When I then woke up at the end of the session—drool pooling and feeling like I had slept for hours—it took me a few moments to compose myself.
I'm not alone.
"100 percent of the people I've worked on have fallen asleep on the table," Christa said.
"We all say we relax," she continues, "but our relaxing is on the phone or binge-watching Netflix, and that's not really relaxing. We're not letting our bodies get restorative time. If you can't relax properly or correctly, your body can't heal itself. Meditation can be hard for a lot of people. They give up too easily or they just can't quiet their mind. The bowls can help you get into that meditative state without having to sit and train your brain to be quiet for so long."
Christa also markets her services to entrepreneurs and those traditionally "on the go."
"My specific focus is having people relax," she said. "That's what I'm passionate about, helping people be resilient."
Show, Don't Tell
All entrepreneurship is inherently a gamble, but Christa deserves credit not only for striking it out on her own and opening her small business, but doing so with a product that most people—especially in Palm Coast, Florida—don't really know exists.
"Attempting to talk to some people, you see the glazed look over their eyes," Christa said. "But, people have embraced it once they have the experience."
Because of this, the business plan, marketing strategy and goals don't exactly look like a normal business, and she said that she needs to frequently remind herself that she's doing what she does in a market that's not exactly open to alternative modalities like hers.
Still, she's working toward productizing her services and packaging them both with traditional life coaching and motivational techniques in a bit of a "mental spa day" for busy women who want to feel less worn out. Thanks to her location at West Pointe Plaza, where she shares space with other healing arts therapists, she also wants to package some of those modalities with her own—say, for instance, a 30-minute VST session to relax after an intensive Swedish Massage session.
She also markets by showing, not telling and realizes that traditional forms of marketing isn't going to come easy for a business like hers. She's come to Entrepreneur Nights with the bowls, and played them for people when she sees that aforementioned glazed-over look.
"People are really surprised at how effective it is," she said.
Moving forward, Christa has big plans for Deep States, including more trips around the world playing her bowls and honing her craft. She also speaks excitedly at the idea of a Healing Arts Center in Palm Coast with not only Vibrational Sound Therapists, but the entire gamut of ways for people to rest and relax. She also cannot wait to pivot into utilizing her services even more in the assistance of others, and wants to connect her services with those who are disadvantaged but might need that relaxation the most.
Big dreams, sure. But Christa is an entrepreneur who is living her dream the way that many could not imagine.
"You are your own best kept secret," she said to motivate any of us who may not be willing to take the leaps she has. "You have to put yourself out there—no matter what the idea is. If you don't take that first leap, you're depriving yourself of your chance to thrive in life."