February's Entrepreneur night in Palm Coast, FL fostered a sense of connection and inspiration that all entrepreneurs strive for.
Over 100 entrepreneurs attended this grassroots event on Tuesday, February 25th 2020; an impressive number for an event that was threatened by rain.
Rain or not, Entrepreneur Night always powers through and delivers an amazing night. The Hammock Wine & Cheese came prepared for the looming grey clouds with gorgeous lights, grand gazebos and a stage worthy of any performance.
Eight years later and the Central and Northeastern Florida's community of entrepreneurs keep growing larger. So many new faces came to the February event to join the 10,000 we have already attended across 10 cities and 5 different counties. This means lots of fresh connections were made in our community of interesting and diverse Entrepreneurs in the Flagler, Volusia and St. John counties.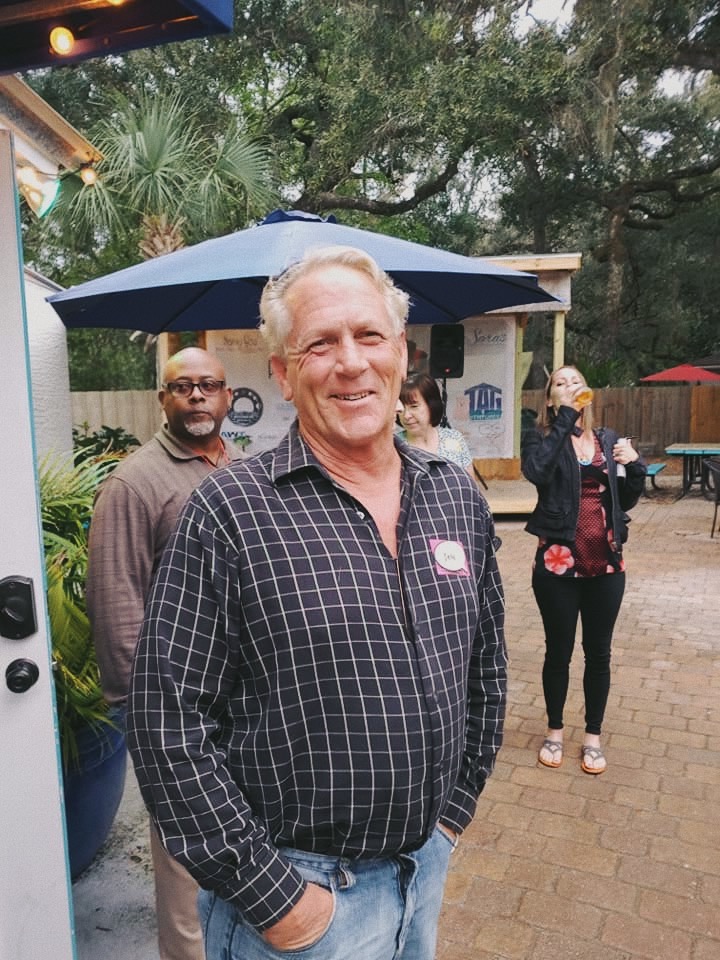 Surrounded by oak trees and spanish-moss and tucked along the scenic A1A, the host venue, Hammock Wine & Cheese, brought a sort of magic with it. Lines upon lines of interesting wines stood against the walls and yet their servers could find the exact right beverage for your taste-buds hidden within the collection (no really!). Along side their delicious wines from around the world, they had a spread of yummy cheeses served on pizza, tasty!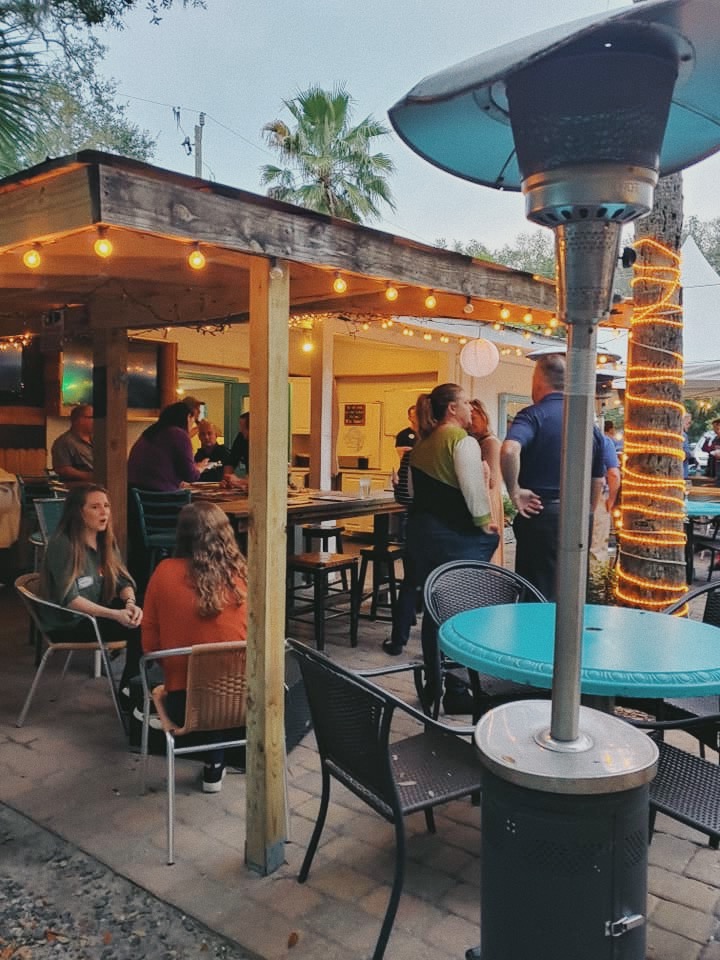 The Hammock Wine and Cheese itself has been a part of the community for 10 years and is now ran by two local, inspiring entrepreneurs. The venue has a cute gift shop; perfect for presents and baskets for your up coming events. It also has an array of wines and tapas to buy that you won't easily find in other places.
After 5 counties and 10 cities, we always love to come back to where Entrepreneur Night started its journey and makes its home, Palm Coast Florida.
This is the sixth time we have visited this venue to foster where many lasting relationships began. So many fascinating entrepreneurs attended this month, some of whom have been featured on the entrepreneur soap box (below).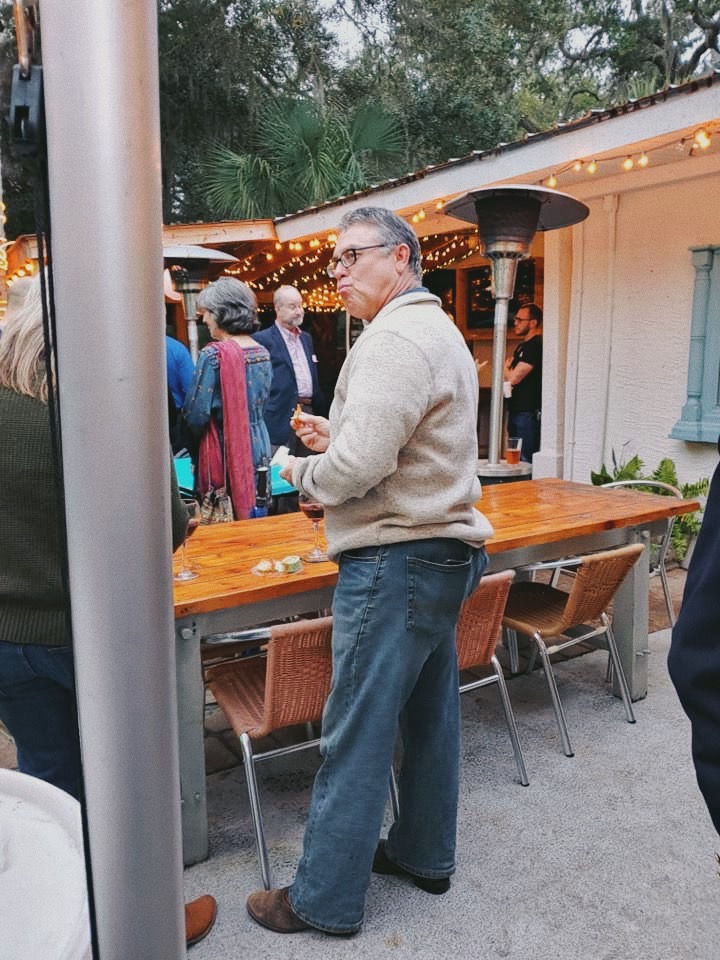 Everyone who attends this event each month (except for July, August and December), is committed to creating connections and bonds to other entrepreneurs in the area. In this community entrepreneurs want to come together and grow together from the successful CEO to the entrepreneur at the start of their exciting journey.
Entrepreneur Night builds on meaningful conversations so those who attend always come and leave with a sense of support and inspiration.
IMPORTANT:
March and April Entrepreneur Night events have been cancelled due to looming Coronavirus spread threat. Stay tuned for further announcements on this website.
Entrepreneur Soapbox
The Entrepreneur Soapbox is an original idea implemented at Entrepreneur Night. It is inspired by the old way of making a public speech back in the 18th and 19th centuries, on a wooden crate, often an actual wooden soapbox.
It is simple to participate in the Entrepreneur Soap Box. Assuming you're an entrepreneur, if you can meet the following simple three rules, we're happy to see you get up on the soap box and talk about yourself and your business:
Watch your step on the way up.
Have something interesting to say.
Watch your step on the way down.
The Hammock Wine & Cheese is run by two local entrepreneurs and had been serving the community for ten years! Aside from serving wines and tapas, they have a quaint gift shop for all your gift basket and special occasion needs.
Renee DeVincenzo works for MDR Administrative Services. She helps small businesses and entrepreneurs and helps them to identify the tools they need to keep running smoothly.
As a real estate investor Jim Iorio specializes in flipping vacant lots. Here he is discussing more about his business.
Jim Blake runs Bambiz Marketing for elder law and estate planning attorneys. Check out more with his soapbox video below.
A revolutionary new medical device has been created by Dr Roy Hinman. Here Azgari Hasin discusses more.

While we had a lot of awesome Entrepreneur Soap Box videos to pick from, we couldn't put them all in this post. Follow Entrepreneur Night on Twitter and Facebook for even more of our videos from this event. We hope to see you attend our next event and hop up on the SoapBox yourself!


About Entrepreneur Night

Entrepreneur Night is a grassroots event for and by Entrepreneurs. It takes place the last Tuesday of each month—except July, August, and December. It is always at a different location and free to attend. Complimentary appetizers and a cash bar are provided by the host venue. At each event, expect to meet many new entrepreneurs, investors and service providers…and to have meaningful conversations. 
What would you like to do next?

You can check out the previous Entrepreneur Night events or RSVP to the Next Entrepreneur Night Event.