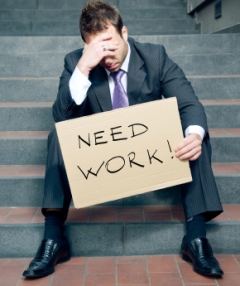 April 2012 unemployment statistics are in, and Flagler County's jobless rate fell to its lowest since 2008.
April's figure is 11.6% in Flagler County, lowest since it was 11.2% in late 2008, according to numbers released Friday by the Florida Department of Economic Opportunity.  The news and the overall trend is positive, as at not long ago Flagler County's rate was 16%.
However, Palm Coast and Flagler County still have the highest unemployment rate in Florida as of April 2012.  Flagler is followed by Hernando County (10.8%); Hendry and St. Lucie counties (10.7%); Dixie County (10.2%); and Putnam County (9.9%). There were five Florida counties with double-digit  enemployment rates in
April, down from 10 in March.
Over-the-year job losses in information; professional and business services; and leisure and hospitality and long-term job losses in construction contributed to Flagler County's high unemployment rate.
"I think that the jobs situation is improving.  There's more happening. If you look at credit card debt, foreclosures, those numbers are getting better."
…that is Lou Paris –a spokesman for the Center for Business Excellence in Daytona Beach, the workforce development board for Volusia and Flagler counties, was quoted in the Daytona Beach News Journal article: "Flagler, Volusia jobless rates hit 3 1/2 -year low"
And according to a Flagler Live article titled: "Florida's Unemployment Rate Down to 8.3%, Flagler's at 11.6%, But Many Drop Out," payroll growth has remained relatively flat, another indication that fewer job seekers are being added to the rolls of employed workers.
* * *
Do you have any comments on Unemployment situation in Flagler and Volusia Counties or Florida overall?  We welcome your comments, opinons, ideas below.