Folks told us that the first Entrepreneur Night of the 2018 was a smashing success!
January 2018 Entrepreneur Night event was attended by 167 folks, 39 of which were first timers at Entrepreneur Night.
Despite the chilly weather, Entrepreneurs came down to Moonrise Brewing Company at European Village in Palm Coast for a night of local business and of course, brews.
Moonrise Brewing Co. is a new addition to the local landscape. The venue opened on New Year's Eve of 2017, and this brewery has been welcomed with open arms. Certainly for the Entrepreneur Night event, it was the perfect venue choice to kick off 2018 with.
For obvious reasons, the bar was a popular destination, but we also want to commend the fantastic array of food served. Big thanks to everyone over at Moonshine Brewing Co. for your warmness!
Now for this event, we introduced something we think is pretty cool: an Entrepreneur Soapbox!
Crafted by Adrienne and John, the wonderful people behind LadyMade in Deland.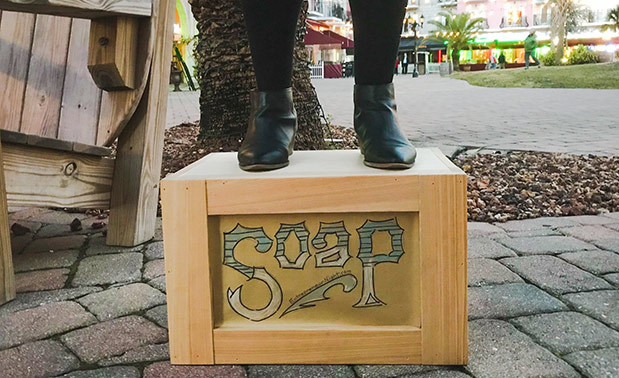 Have something to say? Want to share your business with the world? Then come step on up! We are giving entrepreneurs a platform to speak about what's on their mind. The only rule: watch your step!
Thank you to everyone who made the start of this year extra special by joining us at the event.If you weren't able to make it this time, here's a short video of the January 2018 Entrepreneur Night!
---
Entrepreneur Night is a grassroots event for and by Entrepreneurs, which takes place the last Tuesday of each month – except July, August, and December at a different location and venue. It is free to attend. Complimentary appetizers are provided by the venue hosting the event as well as a cash bar. In each event you can expect to meet many new entrepreneurs, investors and service providers; and have meaningful conversations. You can check out the previous Entrepreneur Night events or RSVP to the Next Entrepreneur Night Event