The first Entrepreneur Night event of 2020 went off with a BANG!
Over 200 entrepreneurs attended this grassroots event on Tuesday, January 4th, 2020. January's Entrepreneur Night came to Ormond beach at the fantastic La's Bistro–a restaurant with a wonderful entrepreneurial story itself, spanning 14 years.
The atmosphere was one of energy, cheer and excitement!
There were many new faces at this Entrepreneur Night, but this event stood out uniquely, as nearly half of the attendees were first time joiners. Meeting first-timers and introducing them to others who they should know is, in part, what Entrepreneur Night is about: Connecting people.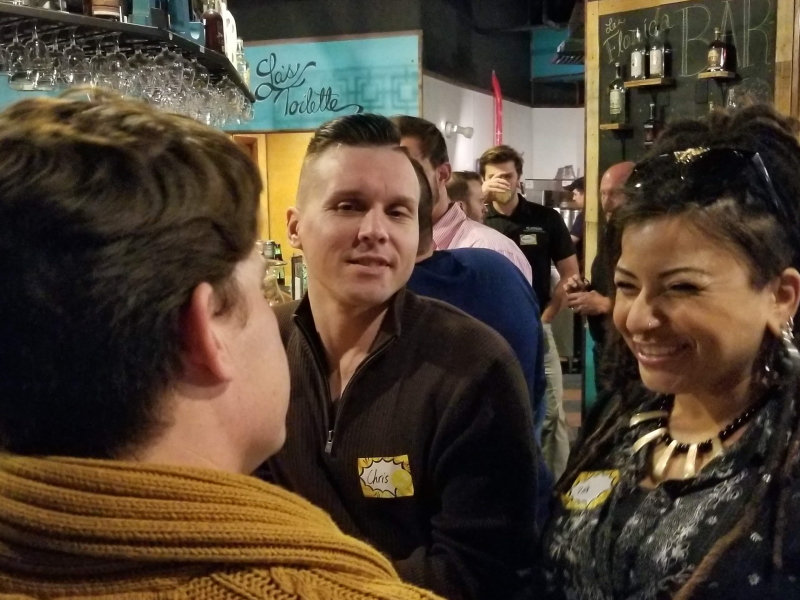 Lots of peace signs hung from people's necks, as it is a tradition during this event for newcomers to wear peace sign necklaces. This makes it easy for the regulars to identify them, engage them, and introduce them to others. We were a few short necklaces at the end and that's a first!
January 2020s Entrepreneur Night event marked the 76th event since 2011.
The host venue, La's Bistro, proved to be the perfect, immaculate location with every detail thought out. The owner, Carlos, is a terrific entrepreneur who is very involved in the community.
Carlos and his team at La's Bistro went above and beyond to ensure every entrepreneur had a relaxing and fulfilling time with service that never missed a beat and mountains of delicious, healthy food at every corner (which didn't taste traditionally healthy at all! Yum.).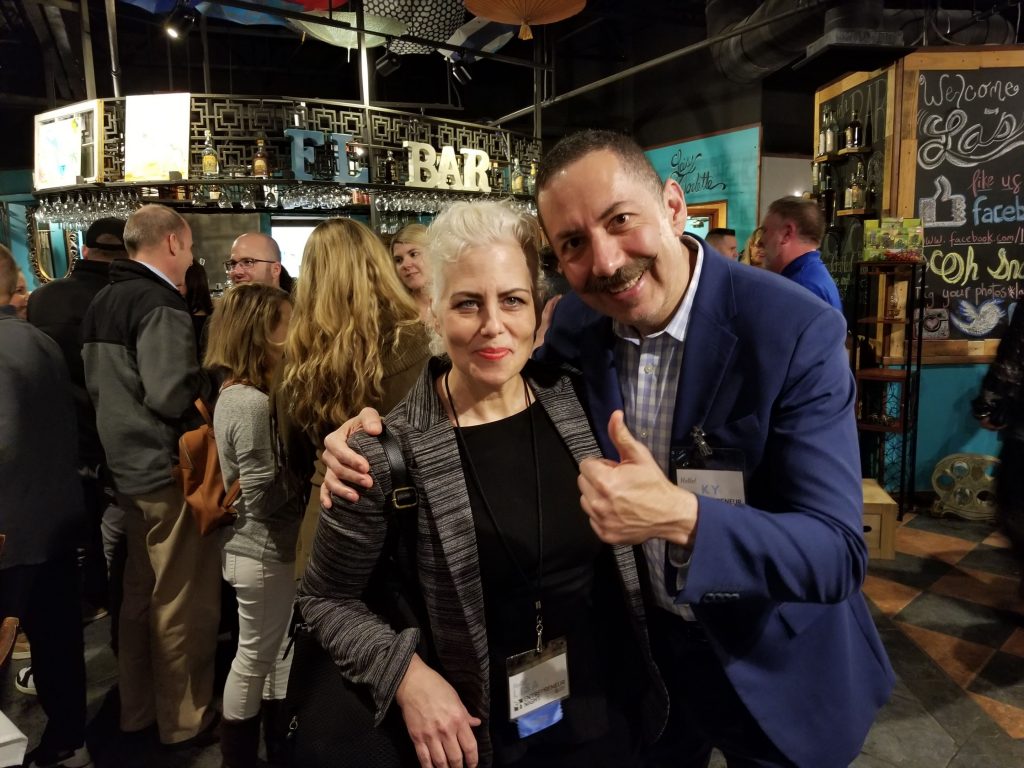 So many fascinating people attended this month, including Michael Zaharios of The Florida Virtual Entrepreneur Center (an online directory of resource agencies that serve entrepreneurs).
Born and raised in Daytona Beach, his family discussed business at the dinner table and as he grew up, he learned the ins and outs, and highs and lows of business. This sparked a desire in Michael Zaharios to become an entrepreneur, and especially to support other entrepreneurs. He stated;
---
"I am very fortunate to serve entrepreneurs, by supporting them, helping to market them and connect them to resources (through FVEC). I've noticed an immense amount of energy from people this 2020, folks are off to a really good start.I think positivity and mindset of success is present in a lot of people.I hear from a lot of folks that they're busier than they've ever been.

2020 is the start of a new decade and an opportunity for an Entrepreneur to realize their full potential. The rolling 20s are repeating themselves.

Florida has the right recipe, the right magic sauce, for what's conducive to Entrepreneurship, innovation and business success. There is still work to be done, but I think Florida will be number one in every report, by the end of this decade."

— Michael Zaharios
---
When asked about Entrepreneur Night he added,
---
"It's a great opportunity for people to have fun and connect and meet new people. And focus on an environment that's meant for and built around entrepreneurs.

The energy that was in the room–at Entrepreneur Night–really sparked me the most.

The mindset is a critical piece to entrepreneurship. There's going to be a lot of roadblocks and things in the way, and you have to tell yourself 'I can get through those and figure out solutions'. The mindset at Entrepreneur Night is on the right track."

— Michael Zaharios
---
It has been a while since we last visited Ormond, and so many were thrilled we came back to this vibrant city. We returned to not only focus on what more can be built, but nurture what has grown already and smash through any roadblocks together.
And so within this stunning bistro, new partnerships were made–and those formed long before, touched base again.
Almost every person who attended committed to helping the businesses in their area grow with them. They know every new business that thrives is a new brick to add to the foundation of the counties we live in.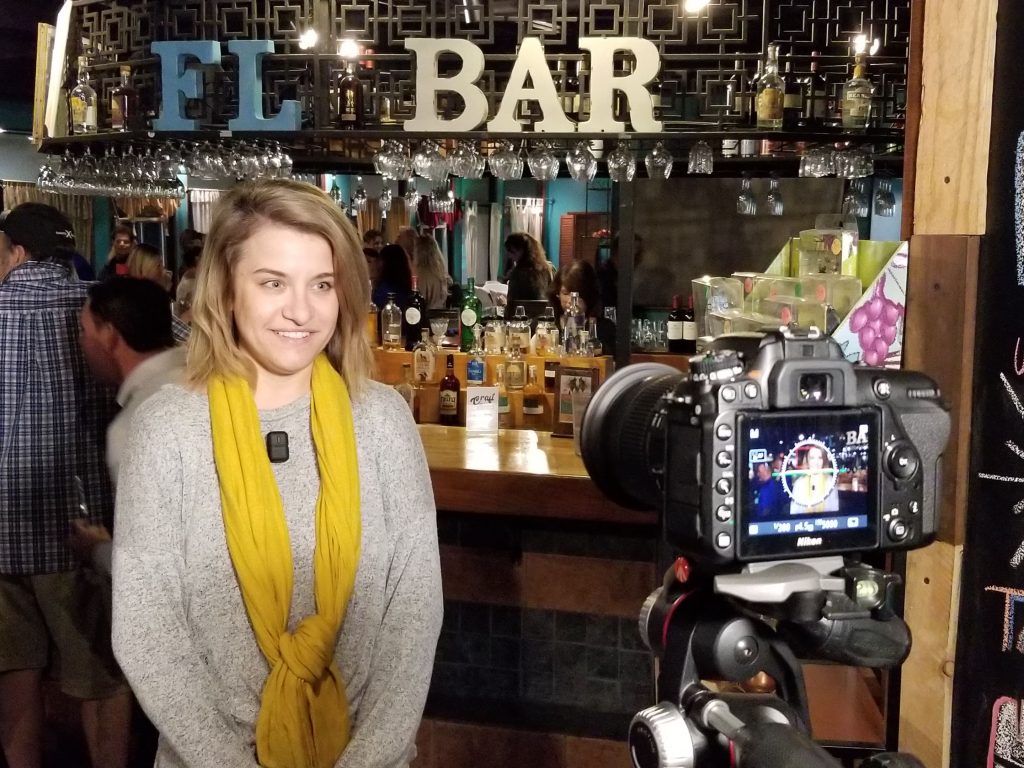 Brian Rademacher, CEcD, Economic Development Director for the City of Ormond Beach also attended this month's Entrepreneur Night. We were ecstatic about his interesting insight–specifically in Ormond Beach this coming 2020. He stated,
---
"For economic development in Ormond Beach for 2020, I think we're going to have some pretty positive momentum as we continue to see many of our companies expand their operations. 

As we closed out 2019 and move into 2020 we see several companies looking to set up (or begin to set up) their operations in Ormond Beach, especially within our targeted industries in manufacturing or professional services in aviation–which Ormond Beach is known for.

Furthermore, I believe we are going to see continued growth of brick and mortar and home based business for this decade. 

It was great seeing so many people gathered in that space (Entrepreneur Night) talking about their ideas and sharing best practices. 

These events are so important for our region to grow their ideas and business.
 
The event was full of a lot of positive energy and I look forward to more of them in the Ormond area."

— Brian Rademacher
---
Entrepreneur Night is a living breathing eco-system of fascinating business owners who are the very nutrients that help the community grow and provide resources for everyone. This trickles down from the CEO with pragmatism, to the aspiring entrepreneur with a dream to chase.
Entrepreneur Soapbox
The Entrepreneur Soapbox is an original idea implemented at Entrepreneur Night. It is inspired by the old way of making a public speech back in the 18th and 19th centuries, on a wooden crate, often an actual wooden soapbox.
It is simple to participate in the Entrepreneur Soap Box. Assuming you're an entrepreneur, if you can meet the following simple three rules, we're happy to see you get up on the soap box and talk about yourself and your business:
Watch your step on the way up.
Have something interesting to say.
Watch your step on the way down.
Here is Takishia Rhynes a realtor talking about her motivational speaking every Monday morning which she does for the entire world.
Lee Parsells co-founder of Eagle Pest Solutions with his 35 years of experience getting pests out of your home. Lee tells us about it below:
Tee Matthews talks about her business as an event planner with A & T celebrations below, and how she brings heart to her work.
Nicole Damico business Keys & Collars strives to find the best care-givers for your pets when you're away on business or have a long day at the office. Below she talks about it.
While we had a lot of awesome Entrepreneur Soap Box videos to pick from, we couldn't put them all in this post. Follow Entrepreneur Night on Twitter and Facebook for even more of our videos from this event. We hope to see you attend our next event and hop up on the SoapBox yourself!
About Entrepreneur Night
Entrepreneur Night is a grassroots event for and by Entrepreneurs. It takes place the last Tuesday of each month—except July, August, and December. It is always at a different location and free to attend. Complimentary appetizers and a cash bar are provided by the host venue. At each event, expect to meet many new entrepreneurs, investors and service providers…and to have meaningful conversations.
What would you like to do next?
You can check out the Entrepreneur Night recaps or RSVP to the Next Upcoming events for Entrepreneur Night.