Jacksonville Entrepreneur [äntrəprəˈnər/] (noun):
A person that organizes and/or operates a business in Duval County and possess thoughtful thinking, energetic, and optimistic characteristics.
Infiltrating the North Florida region for the very first time, Entrepreneur Night has now been to 5 counties and 8 cities, adding Jacksonville to the list of cities that the event is trying to dominate. *cues in villainous laughter*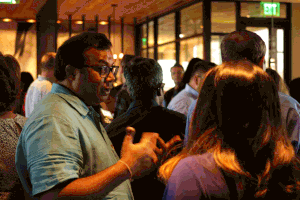 An influx of Entrepreneurs from all industries congregated at Moxie Kitchen + Cocktails on Tuesday evening, which is located in the "infamous" Town Center area. This venue establishment has an upscale, yet modern flair to it, with exceptional seating arrangements (outdoor and upper included) for either an intimate moment or casual gathering. Not to mention their unique bite-size appetizers and hand-crafted cocktails were surely something to get excited about. Did we mention they use paper straws? How eco-friendly! 🌎
The Jacksonville Business Journal played a fun role in shining some light on how this event came to fruition. Despite the on-again, off-again weather, there were 115+ in attendance throughout the night. Entrepreneur Night in Jacksonville was the first for many. There were lots of talk about the eccentric energy that folks brought into the event and significant conversations that were left lingering as the evening dwindled down.
(P.S) Did you think we weren't going to debut the ENTNight Soapbox in Jacksonville?  Think again! Here are a few distinct Jacksonville Entrepreneur(s) that braved the box.
The rules?
Watch your step getting up.
Have something interesting to say.
Watch your step getting down.

Here's a complete video capturing the moments from the Jacksonville Entrepreneur Night event

---
Entrepreneur Night is a grassroots event for and by Entrepreneurs, which takes place the last Tuesday of each month – except July, August, and December at a different location and venue. It is free to attend. Complimentary appetizers are provided by the venue hosting the event as well as a cash bar. In each event you can expect to meet many new entrepreneurs, investors and service providers; and have meaningful conversations. You can check out the previous Entrepreneur Night events or RSVP to the Next Entrepreneur Night Event