Over 100 entrepreneurs attended the November 2019 Entrepreneur Night in Orange County Brewers, Lake Mary.
Right before Thanksgiving in November 2019, on the last Tuesday of the month, we hit our 75th Entrepreneur Night!
Seventy-Five whole events later and this spirited night still floods with new faces thankful to be a part of the entrepreneur community.
Over 90% of attendees to this month's event were new-comers. Peace sign necklaces were all around. Why is that? We give every first time attendee a peace sign, so others can identify them as a first time attendee and engage them in conversations and introduce them to others that they should meet.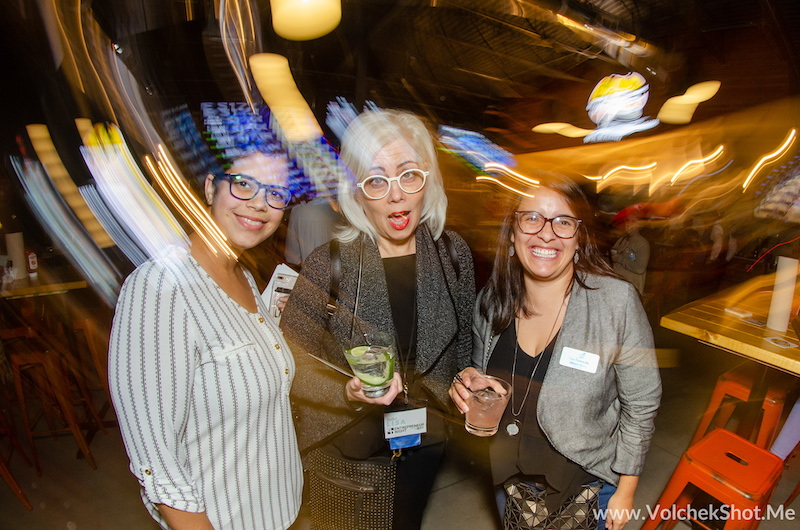 It was no surprise that the density of first time attendees were high at this event. Because November 2019's event location presented a first also. This was the first time Entrepreneur Night was held in Lake Mary (Seminole County). The team at this venue knew how to handle a high energy crowd, so a big kudos goes to them.
Established in 2017, Orange County Brewers began in the busy downtown Orlando. Earlier this month they opened their doors in Lake Mary, to bring great beer and good times to the patrons in the area.
Their bright orange colors, picked up from their logos, along with the friendly waitstaff, created a happy atmosphere to enjoy some of the best brews available anywhere. They proved that Orange County Brewers in Lake Mary is a perfect location for business professionals to grab a drink and chow down on a full spread of sliders and other goodies.
Another interesting aspect about this location of Orange County Brewers is that it is powered by Total Beverage Management Solutions.
Total Beverage Management Solutions is a turnkey provider of Microbrewery Solutions, from initial setup, equipment, recipes, and even the first year's operations. Sandeep Bhatnagar and Michael Kolodin are the principals of the company. Michael was on site during this event interacting with fellow entrepreneurs and showing off the company's first example brewery in the United States.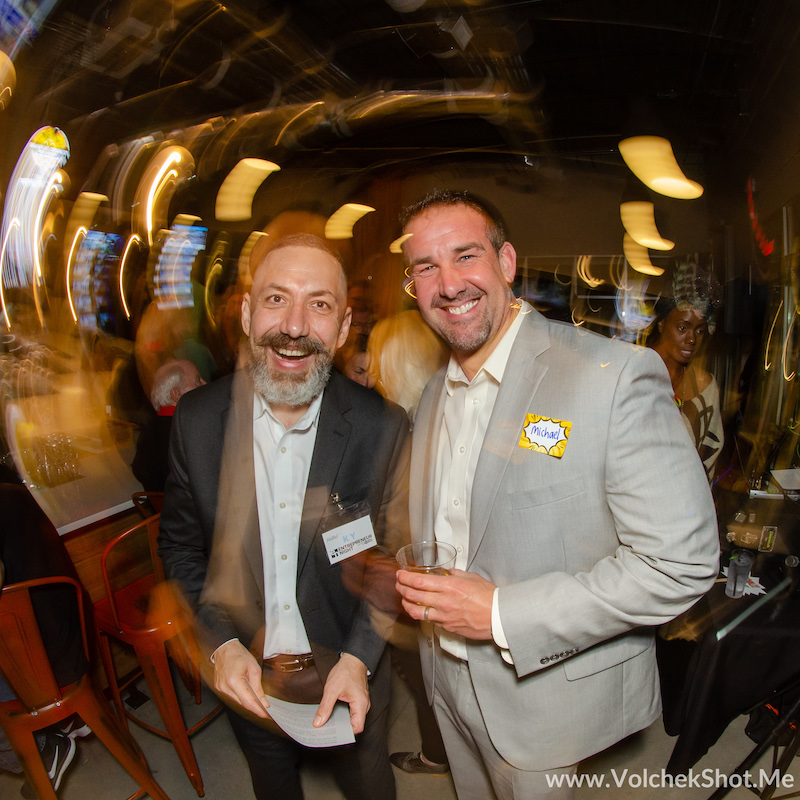 Entrepreneur Night is a place where you can make long-term partnerships and business relationships, who support your growing business right alongside you.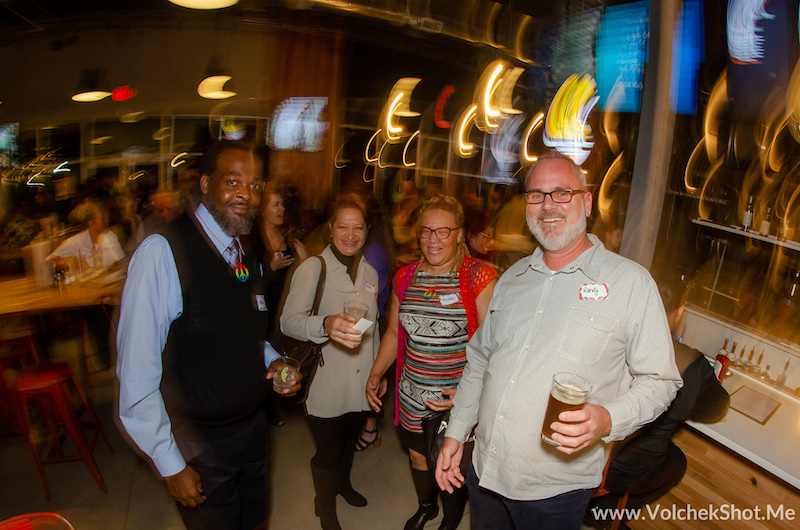 In this season of gratitude many were thankful to extend to Lake Mary for the first time, to focus on the relationships that could be formed in this focus area.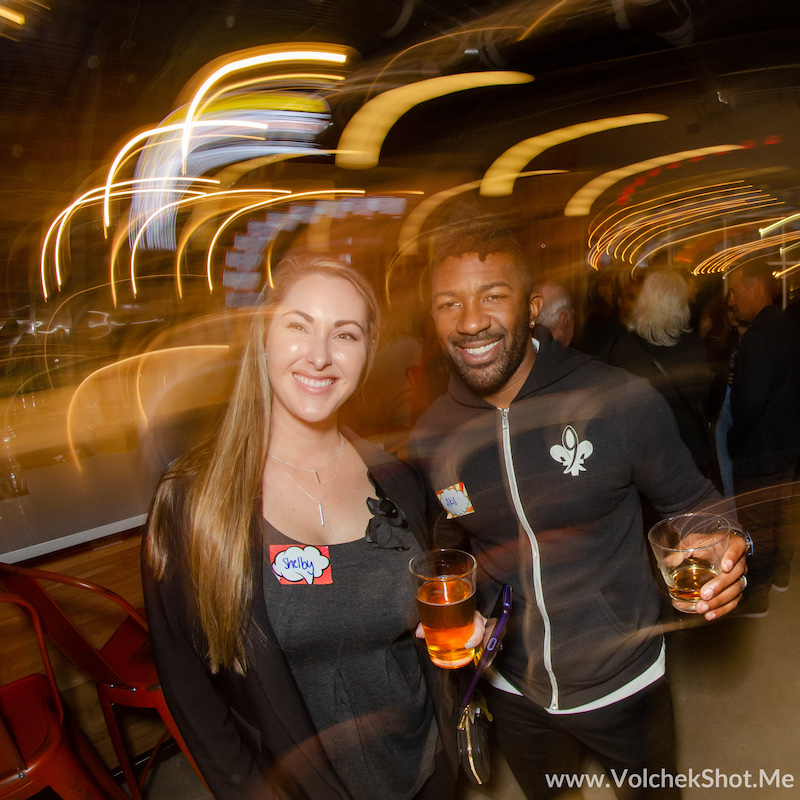 We're almost at the end of 2019. That means it's time for one of our annual surveys about outlook for the coming year.
What do Entrepreneurs expect for the upcoming year, of 2020, sunny or cloudy skies?
We asked this question on our Twitter before the event and 144 responses were given. Of these 144, just over half, or 76 people, voted that the future looked sunny and good. Here's the data visualization of the twitter survey results: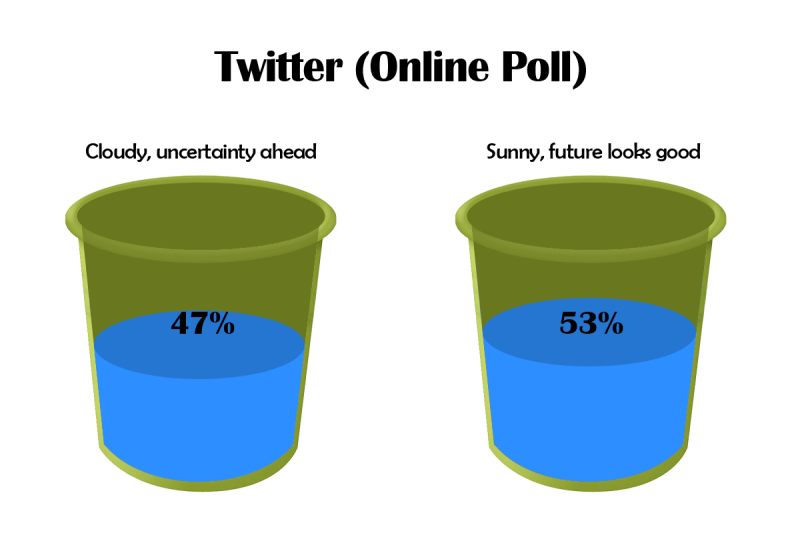 Compare that to how people who attended the Entrepreneur Night responded, and you will notice a stark contrast. Roughly 100 people responded in person during the event. These responses reflected a more positive outlook whereby, 81% felt the future looked bright.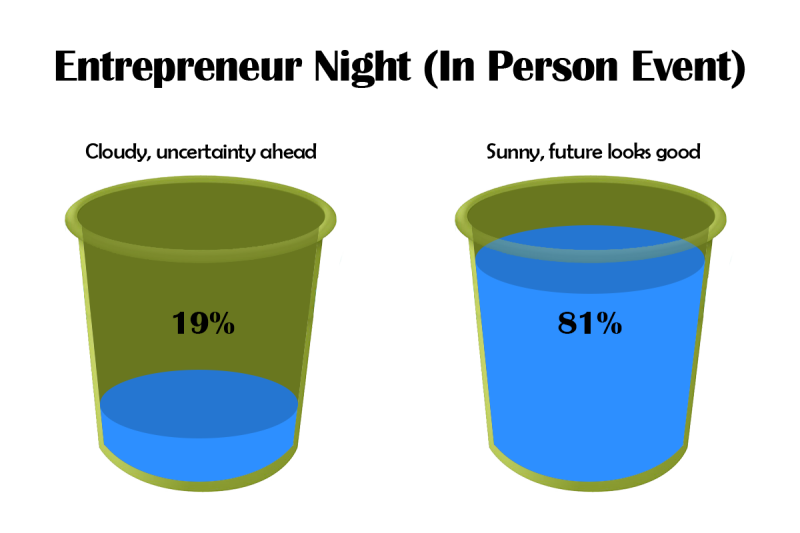 Entrepreneur Soapbox
The Entrepreneur Soapbox is an original idea implemented at Entrepreneur Night. It is inspired by the old way of making a public speech back in the 18th and 19th centuries, on a wooden crate, often an actual wooden soapbox.
It is simple to participate in the Entrepreneur Soap Box. Assuming you're an entrepreneur, if you can meet the following simple three rules, we're happy to see you get up on the soap box and talk about yourself and your business:
Watch your step on the way up.
Have something interesting to say.
Watch your step on the way down.
Here is Cat Rambo talking about her role as a Business Growth Consultant for businesses in the area.
Kal Gohill talks about his interesting business getTREAD, a traditionally brick and motor concept turned a web based mobile business under Kal's vision.
And here Michael Callahan, of Michael Callahan & Associates –a CPA in Virginia, who recently added a satellite location in Palm Coast to offer B2B bookkeeping and tax solutions, and wants to save businesses in the area thousands of dollars.
Akil Yisrael with Focus 9 Enteprises, a bookkeping and accounting firm, also stood on the soapbox to discuss how to bring your business proficiency and efficiency with his business.
Sheri Johnson is a certified transformation health and life coach and talked about her business Empowered Health.
While we had a lot of awesome Entrepreneur Soap Box videos to pick from, we couldn't put them all in this post. Follow Entrepreneur Night on Twitter and Facebook for even more of our videos from this event. We hope to see you attend our next event and hop up on the SoapBox yourself!


About Entrepreneur Night

Entrepreneur Night is a grassroots event for and by Entrepreneurs. It takes place the last Tuesday of each month—except July, August, and December. It is always at a different location and free to attend. Complimentary appetizers and a cash bar are provided by the host venue. At each event, expect to meet many new entrepreneurs, investors and service providers…and to have meaningful conversations.


What would you like to do next?

You can check out the Entrepreneur Night recaps or RSVP to the Next Upcoming events for Entrepreneur Night.