October 2019's Entrepreneur Night was Frightfully Wondrous!
Just before Halloween, on this last Tuesday of the month of October, the 74th Entrepreneur Night event was held in Palm Coast, and attended by 127 people.

Since the times of the Anglo-Saxons, people have gathered together in Ale-houses to meet, mingle and make connections with their local community. This Entrepreneur Night, entrepreneurs, aspiring entrepreneurs and small business owners from Flagler, Volusia and St. John's Counties, took to the Brass Tap in Palm Coast, to do just that.
The Brass Tap itself is a beautiful venue with 80 beers on tap. They specialize in beers from Florida and all over the world.

At this event Brass Tap also showcased their capabilities on the food-front, too. A buffee was set up for the attendees.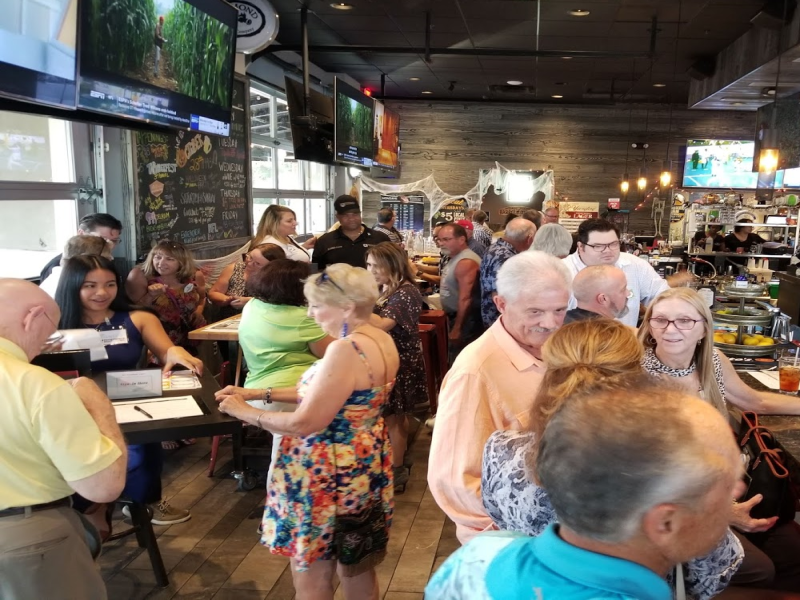 Because Entrepreneur Night is a grassroots event for entrepreneurs, if you want to meet someone who could help move your business forward–or find other businesses to collaborate with–then this is the perfect get-together to do it. People who have never met before are soon laughing and making new friends; creating a place where business and friendship can align.
During the October 2019 event, entrepreneurs packed into the venue, then broke off into small groups and talked jovially over our DJ's classic rock music making new acquaintances.
The entrepreneur event is open to anyone from those who have been in business for a long time, to someone who is thinking about starting a business. This is the perfect place to get an idea of what exists and how to become a part of your areas inclusive entrepreneurial landscape. Here you can get real advice from real people.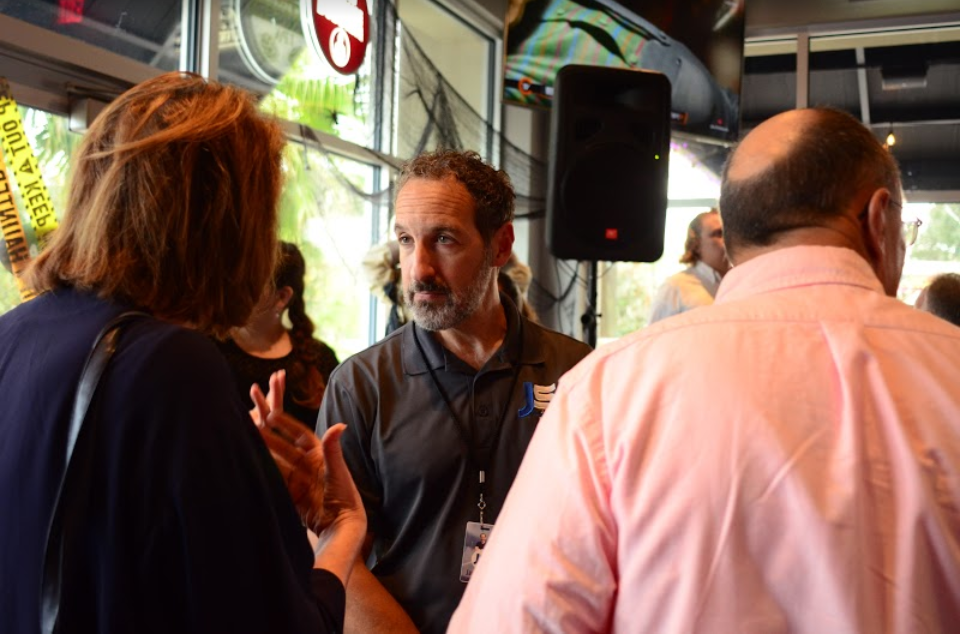 This spooky season, took a break for one night to invite new life goals and joy into the community. Everyone who attended Entrepreneur Night left with a sense of accomplishment and we look forward to the last event of 2019 at the end of November.
Entrepreneur Soapbox
The Entrepreneur Soapbox is an original idea implemented at Entrepreneur Night. It is inspired by the old way of making a public speech back in the 18th and 19th centuries, on a wooden crate, often an actual wooden soapbox.
It is simple to participate in the Entrepreneur Soap Box. Assuming you're an entrepreneur, if you can meet the following simple three rules, we're happy to see you get up on the soap box and talk about yourself and your business:
Watch your step on the way up.
Have something interesting to say.
Watch your step on the way down.
Here's Mark Hoffmann, the owner Jack Verde, talking about his business on the Entrepreneur Soap Box:
Here's Mark Hoffmann, the owner Jack Verde, talking about his business on the Entrepreneur Soap Box:
Here's Bianca Simone, the author of My Inner Voice, talking about her new book on the Entrepreneur Soap Box:

While we had a lot of awesome Entrepreneur Soap Box videos to pick from, we couldn't put them all in this post. Follow Entrepreneur Night on Twitter and Facebook for even more of our videos from this event. We hope to see you attend our next event and hop up on the SoapBox yourself!


About Entrepreneur Night

Entrepreneur Night is a grassroots event for and by Entrepreneurs. It takes place the last Tuesday of each month—except July, August, and December. It is always at a different location and free to attend. Complimentary appetizers and a cash bar are provided by the host venue. At each event, expect to meet many new entrepreneurs, investors and service providers…and to have meaningful conversations.


What would you like to do next?

You can check out the previous Entrepreneur Night events or RSVP to the Next Entrepreneur Night Event.