When done right, there's a certain communal aspect to a cigar lounge that's appealing to more than just your token stogie connoisseur.
As people, we tend to be heavy-handed with the labels we stick on one another, particularly in the midst of a contentious national election. Labels are usually bad, but they're part of the world we live in.
But on a normal night at The Humidor Cigar Bar and Lounge in Palm Coast, you're likely to notice something different. Those labels we take for granted dispersing among the unfurling trails or redolent smoke, whether you're smoking or not. Such is the effect of the right ambient touch when you've sought out the right human cadre: the folks who appreciate chewing on quality, civil conversation as much as they do sipping a distinguished beer, port, or pulling on a exotic, full-bodied cigar. Or at least almost as much.
The last Tuesday of September 2016, was, however, a night for labels at the Humidor, and you could find them stuck right on to their breast pocket of attendees, in the literal form of a name tag. An Entrepreneur name tag that, over the collective whole, showcased a vast network of industries and backgrounds.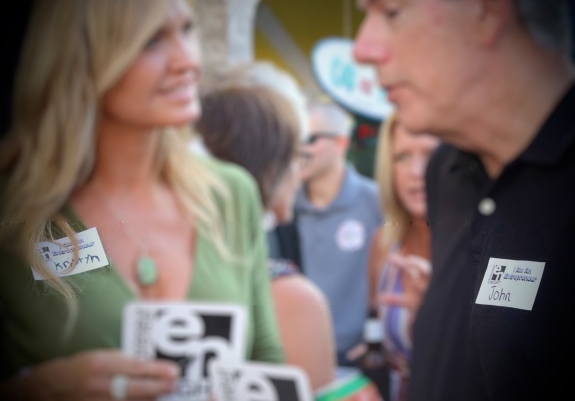 You'll read about four of them below. In this case, the label was actually good thing. After all, there's no wedge that comes with the word entrepreneur. And at the Humidor, this label didn't stop conversation and solidarity from carrying the evening. What else could we ask for on the event's fifth birthday party?
Brad West:
Social Media Coordinator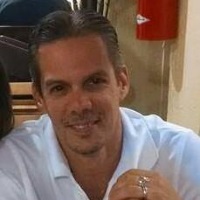 Brad West is a full-time social media professional, who has worked with his wife, Kathleen West, a local realtor, for the past 10 years. As a scrappy Social Media vet, who grew up to take that mantle the hard way, he's been indispensable on her marketing front. West first started studying Social Media when his kids were teenagers, during the Myspace era. His goal then was just to keep an eye on what they were doing. His wife was just then getting involved in real-estate and Social Media was only just becoming a vital tool for business. Being in the right place at the right time to follow all the twists and turns has made West a true child of the Social Media age, and there're few, locally, who understand how to leverage it better for small businesses.
Why does the world need your business?
Real estate in Flagler County isn't exactly unique because you probably have over a thousand people selling the same thing. Buying and selling a house tends to be the most stressful time for people and our focus, as realtors, is to make that process as easygoing as possible because people should enjoy entering that new stage of their lives. Throughout my years working in the technology industry I have learned many things that have carried over into being a realtor. As always, online tools are great, but events like Entrepreneur Night allow business people to make personal connections, which, at times, is more important than online connections.
What has been your biggest challenge? How did you resolve it?
(With Social Media) Things are constantly changing and are forever evolving. Once you get comfortable and get into a group, something else comes along that you have to relearn in order to make your business effective in its industry.
For example, Facebook has always been the biggest social media network and anyone that runs any pages knows that one day you find this formula on how to post and connect with new people and then the next day the algorithm changes and you have to restart all over again.
So you always have to be very creative and always be willing to change or evolve. The other piece to recognize is that there are communication channels and you need to know how to use them strategically. Even though this has probably been one of the biggest challenges, I have always been able to overcome them and learn the new information that I need to know.
What do you love about being an entrepreneur?
Being an entrepreneur allows you to keep on doing things – it is always changing. It forces you to look at the world around you in a different way and consider different ways of reaching your main goal. You get to meet a lot of people, both online and offline, which has been very effective in getting my business and other businesses into the stage of success that it is currently in. Entrepreneur Night is fantastic and events like it enable business owners to network with each other in order to expand their business. This is not just a regular social visit – it's more than that and so many businesses within and out of Flagler County are thankful for all of the work that Office Divvy has done.
Andrew Gall:
Entrepreneur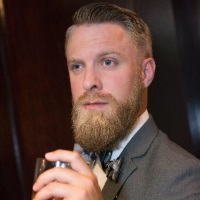 Andrew Gall has been an executive director and residence director at The Windsor, the Palm Coast location for "Legend Senior Living," a national assisted living facility for about three years now. He manages the business's financials, as well as the client side. He also works freelance as a personal leadership coach. Despite his young age, Gall has been working in Assisted Living for more than a decade but still finds ways to love his job. He's lived through multiple grandparents stricken with Alzheimer's Disease. His family began taking care of them full-time when Gall was just eight years old. So, his career was natural progression from that. In his early thirties, Gall is among the youngest and most effervescent Entrepreneur Night fixtures you'll find at out our events and really contributes to the diverse atmosphere. The irony of that, considering his field, doesn't escape him.
Why does the world need your business?
Assisted living has been around as a phenomenon for only about 20 years. In this industry people would stay in their homes for as long as they could. They would bring in nurses and caregivers if they could afford it, but at some point their care just necessitated more hands-on supervision and the only option that was available to them was nursing homes.
So for most of our grandparents, nursing homes was the only type of senior care past leaving your home. About 20 years ago, the phenomena of assisted living began, which was the idea that there is this gray area between the idea of being at home and taking care of yourself and having the hospital-like environment that a regular nursing home provides.
The assisted living movement started to develop; it started up in the northeast and it started to spread throughout the country and the idea was that we could meet the basic needs of daily life. Assisted living has really grown into a lifestyle industry, and at the Windsor we provide a very rich and upscale environment that allows people to live a resort-type lifestyle and still have all the clinical needs that they would need to have access to as their age progresses and their health-needs start to change. When you ask the importance of our business, I always note that everyone gets older and whether you're a candidate for the Windsor or a candidate for another company you are going to need that additional care and we provide a very safe environment, which gives peace of mind to one's family.
What has been your biggest challenge? How did you resolve it?
There are challenges in everything that you do, no matter the field. It is important to work with the people around you in order to overcome that obstacle. There has been times that I had to deal with families in order to get the best care for my resident. My first priority is to make sure that my client is well taken care of and not being taken advantage of by their own family or other people. I am proud of the work that I have done and I hope to continue the work that I have done.
What do you love about being an Entrepreneur? (Another reason that makes Gall an interesting Ent Night personage is that he doesn't meet the usual concept, title-wise, of an entrepreneur. He is if you check it on our entrepreneurial glossary sheet an "Intrapreneur.")
In an area like Palm Coast, where the community is so tight-knit, everyone here at Entrepreneur Night is making advances in their area of expertise or industry. At the Windsor we really see ourselves as the leaders for the senior living community industry in this area. Nobody else has a product like we have and nobody else does what we do at the level of quality that we expect our business to maintain on a regular basis.
When I think about an entrepreneur, I always think of someone that is constantly breaking new ground and constantly Pioneering in their area of expertise, and I think that we are doing exactly that in Flagler County in the area of senior living.
I love taking care of people. It was how I was raised. I get a lot of fulfillment out of the knowledge that I helped to make people's lives better. I have 95 residents and at least 95 people care about what I am doing on a regular basis.
We try really hard to set the standard that everyone else wants to attain. I do see myself as an entrepreneur in the sense that I am trying to push my industry forward and I am constantly trying to set the bar higher for the people who do what I do in this area.
The great thing about my business is that everyone is going to need assisted living at some point and if you do not need it now, then you probably know somebody that does need it. I just want to connect with as many people as possible because at some point everyone will need my business. Since we are the leaders of our industry in this community, I do think that it is necessary for us to come to events like this because we do want to help to set the standard. We do want Flagler County to know that we are here – we want to be a resource for our community.
Bob Cooper:
Entrepreneur
Bob Cooper is a serial entrepreneur and angel investor, who has built and sold multiple technology companies in Philadelphia. In that sense, he occupies a high berth in the food chain at our event. Cooper and his wife moved to St. Augustine over a year ago and he was looking to connect with other entrepreneurs. He caught sight of the Entrepreneur Night event on meetup.com, which precipitated his first trip to Palm Coast. Back in the 1990s, Cooper built and sold a company called "Frontier Media Group," an interactive multimedia company that was one of the first interactive agencies in the country. He was able to sell it to various companies. He then went on to sell off two other technology companies to various big-named companies.
Why does the world need your business?
I bring experience from many different aspects of technology and advertising that so many businesses need. I really understand how to apply technology to the work that I do for my clients.
I help business owners see the big picture, and they are very grateful for many of the services that I am able to supply their company with. Coming from the northeast, enabled me to bring many of my experiences to Florida.
I have been doing this for decades and I am glad to know that I am able to use my previous knowledge in a different area and connect with other businesses in order to help expand their own company.
What has been your biggest challenge? How did you resolve it?
I have had dilemmas in the past that I had to overcome, but that's just a regular part of working in the business world. By networking, you can find ways to overcome those challenges. This is important for anyone in any field, but this is crucial for business owners. From all of the things that I have done, I can honestly say that networking with other people at events like Entrepreneur Night makes a difference in the success of one's business. Consistency is a huge factor in business success – as long as you keep focused and reach out, you will have a good foundation for having a successful business.
What do you love about being an entrepreneur?
I love learning new things – I love learning about new technology, business models and meeting new people. I am always fascinated in the fact that there is always some type of new idea even though we all have the thought that everything has already been created.
Michael Castorino:
Entrepreneur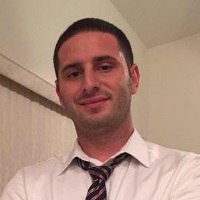 Michael Castorino is part owner of a brand marketing company, "Contour & Co." which started out in graphic design and print. After working this business for more than a decade, he has been able to see this company grow from just print marketing to online and web. From web it ventured primarily under the large umbrella of online marketing, bringing to the table elements such as search engine optimization (SEO), paid advertising, and social media marketing. They haven't abandoned traditional print and webdesign, however. Today it is more important to have brand consistency across all media.
Why does the world need your business?
There are a lot of people that like to do SEO and other similar things. Most people get into it and realize that there are various levels of jargon to the way they do things. There's black hat, grey hat, and white hat. White hat is means doing things the correct way, but it is the harder way. With us, everything we do is white hat and we are transparent with everything. We give monthly reports to our clients because we know how important it is to establish a strong relationship with your clients. We like to take businesses and help them to expand to other locations. I like being able to work with business owners because I love to see businesses prosper in and out of their community.
What has been your biggest challenge? How did you resolve it?
There have been many challenges, especially in the area of my business. When Google tells us that we have to do things differently, then we have to change everything that we are doing in order to follow their rules. Furthermore, things are constantly changing, especially in the world of technology. The new thing has now been Mobile Optimization. Starting a few years ago, more and more people were beginning to use their phone to search for websites instead of their computer.
So, you go from graphic designers knowing how to do everything about websites to where we have to start hiring people to design smaller websites that also can still look good on a mobile format.
Over the years, we have never had any of our sites removed from Google and never hurt our clients. We have always been forthright with our companies and I think that is our biggest accomplishment.
What do you love about being an entrepreneur?
The art of marketing allows me to be creative and allows me to reach out to new businesses and clients in unique ways. Being in the tech industry, the people that you work with are very interesting. Additionally, it is not as cutthroat as other SEO industries. We network a lot and there is a lot of sharing of information that helps us to better our company and other companies of our clients.
Darla Donley:
Entrepreneur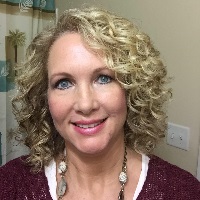 Darla Donley, a mompreneuer and owner of "Paint with Darla," has been running her business for about three years now, which she's just moved to Palm Coast from the northeast, bringing with her some Bob Ross sensibility when it comes to commercial landscapes and other traditional paintings. She may be new here, but she's always been known as "the new person," no matter where she is. It's often like that for artists. Her goal at Entrepreneur Night was to put herself out there and maybe find a few new recruits interested–consciously or unconsciously– in some tutelage.
Why does the world need your business?
I offer a wonderful service and it also helps to relax people, which I find to be the best part.(Homeschooling two teenage boys necessitates it!) You do not need to have any experience in painting in order to sign up for one of my classes – my business serves anyone of any skill level and I am proud of the progress that I have made. Actually, I took my first painting class only three years ago. People think I have been painting forever, but I haven't. It's amazing how you can have such a talent and not even realize it till later on in life. I have worked in the corporate world and other various industries, but my current job has been the most fulfilling to me. I enjoy what I do and I hope to continue on with it as long as possible.
What has been your biggest challenge?
One could say my biggest challenge is always being the "new one." Up north, I was a newbie and when I moved to Florida, I was once again the newbie. Of course, I have to learn new things and things started off kind of slow, but I keep on moving forward because of the passion I have for what I do. Furthermore, I do have a family and my two teenage boys are homeschooled, so I am always busy. I am not a person who lets the "grass grow under their feet," so I relish in the fact that I am busy, both at home and work.
What do you love about being an entrepreneur?
I just love the freedom and doing something that I am passionate about. Working with people and seeing their progress inspires me and allows me to continue on with my successes. Hearing that students tell me that they framed their work, is so satisfying and lets me know that the students I teach appreciate what I do, and I appreciate them just as much. Being an entrepreneur is the most fulfilling thing besides being a mom.
Entrepreneur Night is a grassroots event for and by Entrepreneurs, which takes place the last Tuesday of each month – except July, August, and December at a different location and venue. It is free to attend. Complimentary appetizers are provided by the venue hosting the event as well as a cash bar. In each event you can expect to meet many new entrepreneurs, investors and service providers; and have meaningful conversations. You can check out the previous Entrepreneur Night events or RSVP to the Next Entrepreneur Night Event