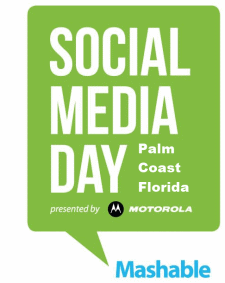 The Conservatory in Palm Coast, Florida was a magnet on Saturday evening for Social Media enthusiasts and the curious, from near and far. The stunning Conservatory became headquarters for World Social Media Day for our "red dot" on the map between Jacksonville and Orlando Florida, on Saturday, June 30th.
Mashable and Motorola joined forces for what is now The 3rd Annual World Social Media Day. They rallied more than 1600 locations across the world to be part of it.  Office Divvy and The Luxury Team of Florida hosted the event as part of one of more than sixteen hundred "red dots" on the world map.
Meghan Peters from Mashable says:
"The event has been declared official by 17 cities worldwide and three U.S. states. This year, we have tens of thousands of people participating throughout the world."
207 folks who attended the Palm Coast, Florida event enjoyed food and libations, from The Conservatory and Hammock Beach Resort while they tweeted, posted pictures and of course chatted with online friends they finally got to meet IRL (in real life).
Our event pictures above include some fun photo props put together specifically for the event. Thought Bubbles that read "I don't Tweet (yet)" or "I'm Huge on Facebook" or "#SMDay" (the twitter hashtag) were on hand as a way of helping people all be in the same place at the same time.
For more pictures view the Social Media Day Facebook Photo Album < here.  Big KUDOS to Elizabeth Carol Photography for doing the event photography at the Palm Coast Social Media Day 2012.
"I wish my client's were in town today. If they were, I would have brought them to this party. How amazing when you come to look at a property and the celebration is for World Social Media Day. It's alive and thriving with something so progressive. Who doesn't want to be part of that?"
…and that's what Kathleen West of Trademark Realty said. Words of Wisdom! What better way to understand an area before relocation than to check out real events, real people, and have real conversations.
Social Media is a wide river and some are on their very first rock beginning to cross, while others are way out far across the river.  Whether you're just getting started or whether you've been doing it for years, there is room for everyone.  And indeed it the crowd at the event reflected this diversity.
Lisa Ekinci of Office Divvy said:
"I want to be around and connected to businesses that are progressive, plugged-in, and savvy. I know I am not unique in this way". "We embrace technology, our network is larger than our geographic foot-print, and we are part of what is next"
Palm Coast's Social Media Day was among the top attended events across the country and certainly one of the most beautiful settings. Hosting next year's 4th Annual Social Media Day is already planned, as we hope The City of Palm Coast will plan on making SOCIAL MEDIA DAY official with a proclamation.
See you next year #SMday #SMdayPC 🙂
* * *
Palm Coast Social Media Day in the News
Palm Coast Social Media Day has been featured in Palm Coast Observer and Daytona Beach News Journal: