It started as a joke, really.
I was working my first bartending gig ever at Henry's Harborside Bar in Palm Coast. It was Spring of 2005 and MySpace was only a baby. Twitter had yet to be born.  Facebook.com was not even an active domain yet. AOL instant messenger was the hottest way to communicate, and Flickr was the top way to share photos with your friends
and family.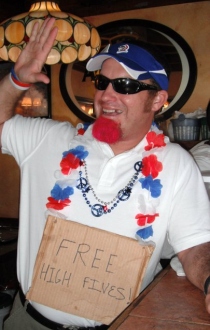 I was known as "Mark the Singing Bartender" because I had a habit of taking the karaoke hosts' wireless microphone to tables and behind the bar with me.
One Saturday afternoon, an exchange between co-workers started me on a fun ride that has yet to come to a finish. I was working the poolside Tiki Hut that weekend and was really enjoying it. So much that one of the other bartenders commented on how much I seemed to enjoy it.
I told him he should call me "King Of The Tiki Bar."
He replied with "How about TikiTender?"
With that comment, a new brand was born. First came a new AOL handle, then a new MySpace account. Soon followed Facebook, Twitter, and the lesser known Meet The Phlockers (a social network for Parrotheads). I built a rudimentary website and began blogging about cocktails, music, and life at the beach. Soon I was being written about in newspapers and entertainment magazines and being heard on the local and national radio (including three appearances on the Flagler County Chamber of Commerce's Chamber Chat).  I was named the area's favorite bartender for the 5th time and was nominated as a Hospitality Hero by Visit Flagler.
I was voted favorite bartender in the area. I even gained a clothing sponsor. Eventually, businesses began paying me to manager THEIR brands. I still shake my head in disbelief when I think back to the chain of events. When people comment on my successes, I just say I've been lucky enough to have a good public relations guy.
When I hand people a business card and they ask me what my business is I always reply with "My business is me."
That same is true for any entrepreneur. You are your business!  How can you use social media to grow the most important brand you know? Engage, engage, engage. Ask your followers about their business. Share their successes. Have you ever met someone who only talks about themselves? Don't be that guy in social media. One of
the most effective habits in conversation is to ask, then listen. Consider social media to be a conversation with hundreds, hopefully thousands, of people. Help others succeed and they will return the favor.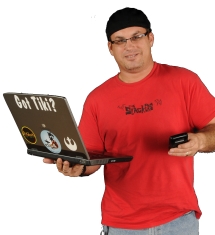 The first article ever written about me was by a twitter follower. My clothing sponsorship came as a result of my drink postings on Meet The Phlockers. My regular radio
appearances came as a result of a myspace friend recommending me.
Social Media is what made me known to thousands of people locally in Palm Coast and Flagler Beach, elsewhere in Central Florida and beyond.  Social media is a community of sharing. Consider it a worldwide "leads group."
After years of tending bar for private parties "on the side,"I recently went legit. After incorporating last year, I put the final pieces together and launched my own company: . Fun Coast Bartending –offering event bartending services and responsible vendor training.   My company is now up and running as of May 15, 2012.
What was my darkest night?
At the end of last summer, I started looking around for office space. I was collaborating with some other entrepreneurs to share an office building in downtown Flagler Beach. We were all in events, so we formed an unofficial coalition called "Creative Events Group". All faced with challenges at the time, we sat on our hands. It was a sad day when I saw the "For Rent" sign in my office replaced with a "Coming Soon" sign. As it turned out, it would have been a stretch for all parties and the venture would probably have failed.
What was my AHA! Moment ?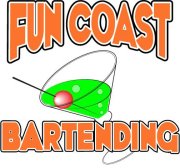 As a bartender, I have been certified as a Responsible Vendor for many years. One day last spring I was checking my certification status online and clicked the "Become A Trainer" tab. It hit me that not only was I a good bartender and connector, I am also one of those people who thrives when speaking in front of and / or instructing a group. Why shouldn't I be training others and making money while doing it? I signed up to attend a three day seminar in Orlando. After a healthy amount of pocket change and the required classroom training I emerged a certified TIPS trainer.
Why does the world need my business?
Fun Coast Bartending offers two distinct but intertwining services: Responsible Vendor Training and Event Bartending.
Responsible Vendor Training is invaluable to individuals and companies who sell alcoholic beverages as part of their business. As an individual who works as a bartender, server, convenience store clerk, or concessionaire it is important to know the laws regarding sale of alcoholic beverages, the consequences for breaking those laws, and how to protect yourself from civil suit. As a company whose business involves the sale of alcohol the benefits include legal protection, a better bottom line in the form of less liquor violation fines, and increased community standing. Individuals and businesses alike have a moral responsibility to protect their customers and the community around them from losses when the line between drinking and drunkenness is crossed. Do you really want to be known as the bartender or restaurant that serves customers until they are incapacitated?
Event Bartending Services allow you to enjoy your party. From a backyard celebration to a gala event, Fun Coast Bartending can help make your party the talk of the town. You should be mingling with your guests and enjoying your night, not worrying about how much that guy in the corner has had to drink or if you have enough ice and mixers to last the rest of the night. You will be too busy making last minute preparations to worry about getting bottles of wine and beer chilled and cutting fruit for garnishes. Have you ever forgotten something small but important while hosting a party? Straws or napkins for example. Fun Coast Bartending will guide you through the planning process to make sure everything is perfect. And, since all of our staff are trained as Responsible Vendors, your won't have to worry about the safety of your guests or property.
---
Entrepreneur of the Month is an essay based contest.  A panel of judges rate each submission, and elect an entrepreneur to be featured in the coming month.  To enter, write a short free-style essay and answer three questions to enter the contest.  The winners will be featured as "Entrepreneur of the Month" on this website, brought tremendous social media attention through multiple facebook, twitter, linkedin, google+ properties, and recognized at the next Entrepreneur Night event.  To enter the contest, Submit Your Essay for Entrepreneur of the Month.