The scene of Entrepreneur Night made European Village noticeably busier than one would expect on a chilly and showery evening on the last Tuesday of January –as the first Entrepreneur Night event of 2014 was co-hosted at Kokoro Sushi and Martini Bar and Le Rendezvous French Restaurant on January 28, 2014.
Two stylish youngish ladies with wine glasses clutched in shivering fingers stood somewhat separate from everyone else. While clearly chilled as the temperature continued to drop, they were nevertheless enjoying themselves.
One was Cam Bennett from Ormond Beach, the creator and founder of TheWellWrittenWoman.com, a community blogging website for women. The other was Becky Pourchot of Flagler Beach, author of the Hungry Ghost series of spooky novels that take place in Flagler Beach, whose protagonist is a girl who can commune with the dead.
Writing may often be viewed as a solitary profession, certainly one that doesn't fit the typical cookie cutter image that the word "entrepreneur" brings to mind. So it was curious how events like Entrepreneur Night might benefit the two friends.
"It lets me drink on a Tuesday—unapologetically," Bennett joked.
"No, it lets me connect with other women who are entrepreneurs who want to get their stories out there."
"And we don't see each other otherwise! This is how we met," Pourchot said.
"We originally connected this way.  And Cam even published one of my stories on TheWellWrittenWoman.com."
For Pourchot, particularly, the event has served her in other ways as well.
"So it's basically connections—whether it's social or business-related. I've made a lot of friends through entrepreneur night. I consider myself an entrepreneur, even though it's on a very small scale. I've got a series that I sell but it's still a business and I still need to connect."
These women may be considered a good example of how the event is attended by a cross-section of business and entrepreneur community and the creative class.
The first ever Entrepreneur night event was held back in 2011, the attendance numbers grew now to be between 100 and 200 consistently every month thanks to the connections people have made at the event, and because those who attended wanted to share this positive opportunity with others. January 2014's event had a head-count of 107 people –despite the inclement weather.
The uniqueness of Entrepreneur Night is that it is not a top-down event. It was always envisioned as a grassroots event.  And today it's exactly that: An event for and by Entrepreneurs. Now maturing after two-and-a half years later, the event also found its own legs as the word got out.  Friends, associates, colleagues of the friends of the friends of who attended this event early on are also now coming to the Entrepreneur Night.
Gary Perkins, who works for the Humane Society, is a 27-year old was a first timer at Tuesday"s event.  Perkins fell on the younger side of the spectrum.  He got into some trouble when he was about 20, he says.  This inspired his non-profit mentorship program, which is like a "year round camp." There, he teaches sports (he says the football team he coaches has a story similar to "The Mighty Ducks") and he also motivates the kids to keep their grades up.
Palm Coast is a good place to start a business, at least compared to Columbia, South Carolina, from where he recently moved.
"It's just my own personal beliefs. But it's pretty segregated there. You got blacks mad at blacks, blacks mad at whites, and whites mad at blacks…In Florida, everyone is so nice and willing to lend a helping hand…The key to being a successful business man is to be a good middle man."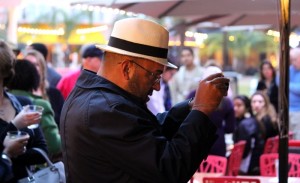 Luis and Heather Garcia were closer to the average age of entrepreneurs in attendance. They've been with SendOutCards for about eight years. It was their first time at Entrepreneur Night. Their business is greeting cards that aren't digital but are accessed online for snail mail use. The company prints it, stamps it, and puts it in the mail, similar to what Netflix did with movies, it says on their website.
Heather Garcia says their business is a good relationship marketing tool and Luis says Palm Coast is a good fit for their business there are a lot of young entrepreneurs here.  And because of the weather, you can network year-round, he adds.
 "We've learned that appreciation wins over promotion every time.  We don't really sell ourselves or our products. If you just stay focused on appreciating your clients on special events, you never have to advertise, because you're going to get referrals that way."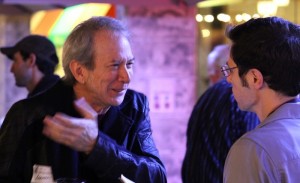 Norman Kent, who's lived in Palm Coast since 1991, is probably the most well traveled of all the attendees. A world renowned photographer and cinematographer with current films like The Fast and the Furious 7, Enders Game,Godzilla under his belt, he says his attendance is both social and business-oriented but primarily social.  It was Norman Kent's idea to have certain shots of the 2000 Tom Berenger movie, Cutaway, filmed in Flagler Beach.
When asked what's his philosophy for success was, Norman Kent, with all that he's achieved, admits that there are times when the going gets so rough that the idea still crosses his mind to get a real job.
 "I don't have a formula, but I do have a philosophy…I'm a passionate photographer. I'm trying to follow my passion…When things get rough, I have to make a decision always to follow my passion and things will work themselves out…Let the world align itself to you."
Will and Jaime Furry, moved here from South Florida in the Summer of 2014. They came to Palm Coast for the small town feel and the easy beach access for their kids but also to exploit an 'age niche.' Their business, "DittoBee: Photo Scanning" digitizes photographs and super 8 films so they can be better preserved and easily shared. Because of the pre-digital-age demographic, with whole lifetimes worth of photos they believe their business will do well in Flagler County.
They've been successful with other businesses in the past:
 "We are really entrepreneurs first.  We kind of just follow trends. With our entrepreneurial spirit, we kind of just put pen to paper when something makes sense to us and we work out the numbers…The businesses don't always have to be our passion; we're passionate about making businesses successful and that's what drives us."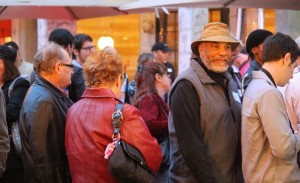 David Royall is also one who is also interested in preserving memories through digitized photography: He is an iPhoneographer and uses his smartphone to take pictures for the purpose of having a "the digital memoire," as he puts it.
He, too, hardly fits the usual businessman mold. Originally from New York and a retired air traffic control professional, today he introduces himself as an "iphoneographer."
David Royall talks about the art of capturing and editing photos right there on the phone, specifically the Iphone. Before taking up the art, he says, he was walking around with an analogue brain in a digital world.
David Royall has already published a book called "Capture, Edit, Share" on the subject of iPhoneography (actually it is more on Phoneography as it's not limited to iPhone), the result of a weekend workshop he taught at COWORK by Office Divvy in Palm Coast.
The point of it all, he says, is this:
"I could leave this event with a finished product [a perfected photo], while years ago you had to go home to do all that… Today my philosophy is if I can't take it out of my pocket, I won't take it out of the house."
David knows for sure in the coming months is that he's going to go sailing for a few months with his wife.   On the RSVP tab of the Entrepreneur Night website, you have the option of clicking on either "entrepreneur, a supporter entrepreneurs, or just coming for the free food."
Royall jokingly says he came for the latter at first, but he's also met some fantastic people here over the years.
* * *
If New York and Silicon Valley are seen as the only places to start up and a run a business from, certainly the 107 people who attended this event in January did not get the memo.
Meaningful conversations were had all around throughout the event, and many new connections were made.  Those surely will be strengthened, and new connections will be made at the next Entrepreneur Night event –which will be in Bunnell, Florida for the first time, taking place as usual on the last Tuesday of the month, on February 25, 2014.
Written by @EzraSalkin | Edited by @LisaFLA
---

January 2014 event in the News
January 2014 Palm Coast's entrepreneur night has been featured in Flagler Live:
---
Entrepreneur Night is a grassroots event for an by Entrepreneurs, which takes place the last Tuesday of each month – except July, August, and December at a different location and venue. It is free to attend. Complimentary appetizers are provided by the venue hosting the event as well as a cash bar. In each event you can expect to meet many new entrepreneurs, investors and service providers; and have meaningful conversations. You can check out the previous Entrepreneur Night events | or RSVP to the Next Entrepreneur Night Event.