The Hammock Wine and Cheese shop, located at 5368 North Oceanshore Boulevard in The Hammocks (beachside Palm Coast), is a locale that could be described as pastiche.   It carries interior and exterior elements in its layout and design that feel sort of Grecian and contemporary at the same time. Nor is it out of place in our North Florida landscape. There's almost an appropriately Dionysian flavor.
All in all, it was, an appropriate place to host March's entrepreneur night, because entrepreneurialism is as old as it is continually evolving. Tuesday, March 25, this local favorite had 107 people who were either entrepreneurs or entrepreneur supporters drinking from the proverbial bottle of collaboration, and in some instances drinking from the an actual bottle, well, maybe just glasses, or puffing the occasional cigar. As you might expect, it was anyone's guess whom you might end up meeting.
Greg Feldman, for instance, who just kicked off his local Senate campaign as a no-party candidate, was also a likely candidate of someone you'd end up talking to. He saw this event, his first, as a means to "let everyone know I'm around and what I'm about," he says.  His campaign website is Greg Feldman for Florida Senate District 6.
Feldman, originally from Miami, and a small business owner himself, called the area much more "genteel" than he was accustomed to, which is a good thing, especially when it comes to pulling together for the common good, whether it be in business or politics.
"Everyone here is just so nice, decent, and polite. I know it sounds hokey, but this is a wonderful community.  I meet people everywhere within District 6 (Flagler, Putnam, St. John's County, and from Speedway Boulevard North in Volusia) and nobody, even if we don't agree, people aren't horrible about it. They say, I see your point, I just can't agree with you. I'm fine with that."
Ali Rodriguez,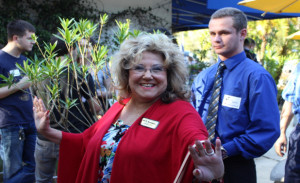 an international business coach with an exotic accent, was sitting at a center outdoor table, drink in hand, listening to the Dean of Daytona State College, Kent Ryan, the evening's guest speaker, talk about all the resources the college offers to either business majors or entrepreneurs.
Obviously, Rodriguez meets scores of people with potential at an event like entrepreneur night.  She says this:
"Business coaching is a matter of time commitment. It's not a one-time deal, and you have to be committed to succeed.  The danger at these types of events is that attendees may become too preoccupied with the superficial exchanging of business cards, rather than actually forming a deeper connection.  For that reason, getting clients is often a more difficult challenge than the actual advising part; but at the Entrepreneur Night events I am able to make deeper connections and have quality conversations with others."
How she goes about her own recruiting success at networking at these types of events can be summed up with the Dave Barnes song lyrics, "Loving me, and loving you," she says, though she has them in reverse. She even sings the lines, herself, right there.
"Sometimes you have to do a lot more of loving me before you start loving you," she says. "That means you have to be really in control and focused at the type of people you want to be doing business with, because not everyone is going to be an instant client or a prospect." Quality over quantity, she reiterates.
Rafael and Terri Medina are a husband-and-wife pest control team. "I'd say we're unique because we're not a big box company. We pride ourselves more on the individual relationship with the customer," says Terri, though they've worked for many "big box companies," themselves—so they understand all the little things that are often lost to the bigger companies, where customer names are interchangeable with numbers.
Rafael used to be a police officer back in California, where both were born and raised. "We woke up one day and said, 'we need to move. Just like that. So we sold everything and got all our personal belongings, and the kids, and moved to Palm Coast."
In going from a law enforcement officer to exterminator, "a lot of people say that's a switcheroo," but not as much as you might think, Rafael says. In a sense, they've always been in the "eradication" business. They're still helping people; they're still providing a service; and they're still solving problems, he says. Now they're just doing it on their own terms.
Christian and Nathan, 20 and 21, from Germany and Jamaica, respectively, are two Stetson University computer science majors who may have been the stars of the show. They had just won the first ever Stetson startup competition, a three-step, competitive process encompassing idea, prototype, four-minute pitch, which, in their case, all happened over three days.
Their product was a "basic" sensor which could measure the ph and moisture values of a plant, which could also relay that information to your phone via blue tooth technology. In terms of the "value," of Entrepreneur Night, "The thing is," Christian says, puffing a "Nub" cigar, "we have to motivate more people to go next year," he says, referring to the start-up competition. The turnout was only around 40 people.
Their product, which would aid what's called "precision farming" on a potentially huge scale, could have the effect of informing farmers in real time how their farms—and their yields—are doing.
"Basically, what we're trying to do is take the guesswork out of farming," Nathan says.
Sean Chambers, 33, is the Chief Technology Officer of a local software company primarily dealing with mortgage appraisal software and real estate analytics, mostly for bank lenders to harvest data. Chambers, who's also done an Office Divvy web standards workshop, says that, beyond meeting people, this type of event is useful…
"This type of an event is very useful because it specifically allows me to see what other businesses are doing in relation to, you know, the Internet and technology.   It allows me to see what other businesses are doing to see if I can turn it around and use it in my business." 
Like the two Stetson students, Chambers says he's also able to seek out potential talent here.
Joey Santos,
or "the web design guy," as it says on his name tag, did some work with Office Divvy, back when he was first starting out of college. With his stylish glasses and facial grooming, he looks too cool for his name tag alias, and the name of his web design business lends credence to this observation:  It's called Zap Avenue.
With somewhat of a fine art background, Santos' specialty is aesthetics, he says.  "Philosophy of Aesthetics" is an interesting course elective one might find offered at a decent art school. Santos's artistic philosophy, however, doesn't require hitting the books. "If it's pretty, it's great. If it sells, it's excellent," he says.
So far, Zap Avenue has been mostly successful due to word of mouth, but nevertheless Santos says he's ready to expand. So from here-on-out, he plans to be at every future Entrepreneur Night. This was his first. "It helps to meet people in person," he says. In the end, success comes from both quality and perception, he adds. "Do you really want to get a website from someone who doesn't sound creative? 'Zap Avenue' sounds like a creative company. It doesn't sound too stuffy or professional."
Jimmy Day, owner of Flagler Spirits, which only sells to licensed wholesalers and other distillers and is also part of the recent boom in micro-distilleries, has a style all his own. His reasons for attending are more abstract than those of many others there, even though he's been coming for years.
Looking at the bigger picture, he looks at the event: the perpetuation of the circle of life.  "Just spreading the love, baby. Just spreading the love," he says.
Orion Christy, 28, one of the founders of what was January's first ever Flagler Film Festival, and a self-proclaimed "fish out of water," said that it was at one event, a couple of years ago, he met the guy who designed the film festival's Website. A part-time entertainment reporter as well as a writing student, Christy has worked hard to break into the industry. So, he says, "If you don't do it," referring to Entrepreneur Night, "then you don't know who or what you might've missed. If you do it and nothing happens, well— at least you did it."
Here is a video summary of the event.
Next event is at European Village, on April 29th: RSVP to Entrepreneur Night
Written by @EzraSalkin | Edited by @KyEkinci

---
Entrepreneur Night is a grassroots event for and by Entrepreneurs, which takes place the last Tuesday of each month – except July, August, and December at a different location and venue. It is free to attend. Complimentary appetizers are provided by the venue hosting the event as well as a cash bar. In each event you can expect to meet many new entrepreneurs, investors and service providers; and have meaningful conversations. You can check out the previous Entrepreneur Night events | or RSVP to the Next Entrepreneur Night Event.