"A lot of people think music scenes are really great and they are. But for a lot of the people on the other side of the events, you're like a lone crusader. It looks like it'd be cool–and it is cool–it's just sometimes you wish you were the other guy actually sitting down and having some fun."
Pyramid… It's one of the world's grandest examples of human ingenuity and architecture, a marvel of technology defying modern comprehension.
For reasons not 100 percent known to him, nearly three decades ago, this beguiling and ancient three-sided feat of brick and mortar seeped into the head of Vern Shank, a pillar in his own right of the Palm Coast music and entrepreneurial scene.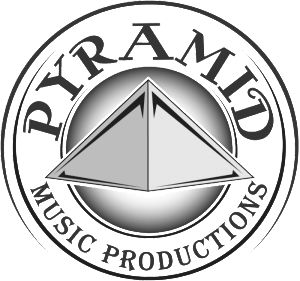 "That's kind of how Pyramid started. It was two guys and we figured we'd make it to the top. From the far ends…Kind of like a pyramid."
So in 1988, Vern and his partner Art kicked off their own brand and company Pyramid DJs,a musical enterprise that is best understood and made unique by the face/faces behind it.
Vern–an enigmatic local force himself–if born in another time and place, with his grandiose ambitions, might've been seen clothed in resplendent pharaoh garb. While none of us knew a young King Tut, Vern is most likely a humbler sort and we do have the privilege of knowing him. Rather than a bejeweled headdress, Vern is content with his trademark felt "Scooby Doo" cap that you can see adorning his head as pictured in this post.
For Vern, his farthest starting corner on the pyramid was Pennsylvania. That's where he grew up and that's where he stumbled into his first music job at 19.
That other guy in the equation, Art Bourasseau, is Vern's best friend of 27 years. Art makes his living and helps guide the company from Burbank, CA. He and Vern met at the former record store, "The Wall Music" (which has since become FYE or For Your Entertainment), the first sandstone building block to their empire. Vern and Art were both assistant store managers, a story we'll revisit.
"We just clicked musically and as bros," Vern says. That was enough.
It's a case of "Ying and Yang," one steps into the other's domain as needed. Vern is more of that impetuous force of nature, the "fast and furious" one, most valuable for tasks in which there's no time to lose. Art, more collected, methodical, takes the lead in situations which call for taking things that call for a more measured pace.
As the universe would direct their movements, the two chose to cleave the company into two branches: Pyramid DJs and a separate music label they tabbed MuSick Recordings, which has been around for 20 years now. Art's responsibility.
Vern stuck to DJing as that was his titular skill on the pyramid.
Vern didn't know he wanted to DJ; that was just an afterthought that snowballed one day without cease. Vern had wanted to be a musician. And he was. But one day, years back, between sets with his LA-based band of the time, an innocent event would set the tone for his next three decades.
"I was playing some music between their band set, and all these girls ran up and said, 'Hey you're a DJ. We need a DJ for next Saturday! Are you available? We can pay you, like, $200. But to me, because I was in a band, making, like, $25 in beer money, I was, like, 'Yeah, I'm a DJ–And that's kind of how it started."
"I played guitar, I really didn't know much about DJing. I said sure…"
"Yes," is the Story of Vern's life…Of course.
If you can DJ well, you will quickly find yourself in high demand. One event can quickly turn into two, three, or four–rapid fire. Suddenly, Vern was doing three events each day, consistently. "I just kept saying, 'Yes' to everything." Brick by brick. Art was doing the same from his side.
Things moved so fast. Vern's musical ambitions would have to wait.
Operating as many events as Pyramid does each day, sometimes five or six, the time came when he needed more people in his employ. Each DJ he brings on board is raised up like a baby in a basket, he says. That brings us back to his employment experience at that record store, "The Wall."
On the one hand, working there was incredibly satisfying. "It played a huge part in who I am today," Vern says–every bit as much as music school, music business school, and film school. Surrounded by all those different types of music. "I soaked it all up. It was one of the great memories in my life…"
He took in all the artists on the cover art floating above and around him: what was going on in their head as they recorded music for history? he pondered. "I always tried to close my eyes and place myself in their shoes or the story that was evolving in the song."
Outside the artistic sphere, on the other hand, it also taught him exactly the type of boss he did not want to become. That lesson came in the form of his "asshole district manager," whom we'll name "Joe."
According to Vern, "He was a corporate drone that only knew figures and not even the product which was music. It could have been cars or appliances to him. He was 100 percent unconcerned about his expendable employees."
Once, an employee, "a really great worker"–"Dan," we'll call him–had just finished unloading and shelving a whole tractor-trailer of CD's, videos, records and tapes by himself in record-breaking time. After he had finished, hours from when he started, sweat-soaked and out of breath, he took a seat. Just for a moment.
"Dan" was unlucky that day. Seconds after he plopping down, Joe happened in. He didn't say anything at first but he pulled Vern into the back office and commanded him to fire Dan for sitting on the job.
"I tried to explain the situation–that I told him to sit down and rest for a moment after all that he just did," Vern says.
Joe didn't care.
"He forced me to fire him on the spot."
Vern obeyed but before he was done that night he'd thrown his clipboard at him. He took his write-up demerit. That day, Vern vowed to give everyone, especially his employees, the benefit of the doubt and that has never wavered.
Too often, however, he forgets about himself. There's a personal toll in building a near-three-decade empire like he has.
"I put a lot of things off. A lot of other endeavors that I wanted to do," he says. Avoiding burnout was a constant challenge. Health and living considerations weren't always allotted for.
"On the Go, on the Go, on the Go." It's a Vicious Cycle.
"It can burn you out when you do something so hard and so fast."
Vern's health and diet history can attest to this, he said. He elaborated. The Food Pyramid was one pyramid that Vern actually neglected…
Beyond that:
"A lot of people think music scenes are really great and they are. But for a lot of the people on the other side of the events, you're like a lone crusader. It looks like it'd be cool–and it is cool–it's just sometimes you wish you were the other guy actually sitting down and having some fun."
For Vern, that never happens. In 20-something years–maybe he's once, twice, been to a party where he wasn't the entertainment. "It just never ends for me."
But if he didn't love it, he couldn't do it.
Yet to this day he struggles for respect. At a recent Entrepreneur Night, a gathering of attendees was asked: How many of you have been in business for two-four-six years? Vern's heard that question a lot.
"I don't know that there's many who can say they started their business 26 years ago."
Yet, many don't view DJing as a real profession. "It's like, 'Oh, you spin music. That's great.' No, we're a viable company!"
Other Talents
Vern eventually was able to get back to music. He's the founder and band leader for the indie, "Retro Power Pop" band, The Cherry Drops, copyright, 2012. The group has won the small type of glory that, as hard-earned as it is, goes mostly unnoticed by most. Yet Vern has been recognized by real Sphinxes of the industry. Little Steven's Underground Garage for example voted the Cherry Drops' single Out Of Sight "best song in the world."
For those who don't know Little Steven, that's Steven Van Zandt, the famed guitarist from Bruce Springsteen's East Street Band. The song navigated its way through a nexus of connections among an underground Internet following right into Steven's hands.
"So, completely out of the blue, I get an email that I'm supposed to call this number," he says. The rest is history, as they say.
The Cherry Drops beat out legends like Paul McCartney, Tom Petty and the Heartbreakers, Chrissie Hynde and the Pretenders, and The Strokes for that distinction. The song, which appeared on the Cherry Drops' debut album "Everything is Groovy," was given the honorific distinction in August, 2014 for one week!
"All these big bands and we're nobody. How can we even be in this?"
Vern says, shaking his head, still amazed. All those records at The Wall…
Additionally, The Cherry Drops also won the award for the third biggest song of the year and Drew Carey chose it as one of his ten favorite songs of all time.
Vern never pushed for any of this. "All this happened in the background," of other things he was doing, he says.
Vern also manages Surf 97.3. His self-described "Sunshine, Happy Vibe music" station, the music of which permeates "that spot in your mind where everything is all right for a while," a garden Vern perennially strives to bask in, always keeping a premium on keeping his head on straight.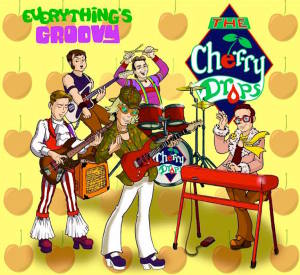 In addition to Pyramid, the Cherry Drops, and Surf, Vern is also a screenwriter who spends his summers with Art in Burbank. Only there does Vern have time to write.
If you get a chance, ask Vern about his film project "Transference," which is more emblematic of him than any song–even ones that seem to capture his aura like "Fun in the Sun."
It's the story of three individuals whose souls have been magically transposed. "They're all missing something in their lives and by seeing through the eyes of someone else they all find that missing piece."
"We all have our inner demons and maybe it's our inner demons that drive us," he says. Just look at a guy who reached the pinnacle like Owen Wilson, the famed and seemingly always cheerful comic who, for a time, had become suicidal. Wilson is one of Vern's idols.
It just takes one negative person to bring everything down quicker than a tower of Jenga blocks, Vern says, and he's known many of them in his life. Some go back even further than that distasteful Mr. 'Joe.' Much further. Not to get too personal, but some were very close to him — they've earned mentions in his songs.
Yet even they have contributed positively in their own way. "Maybe through the feeling that I'm nobody, it's why I'm trying to do all these things…To try and succeed so much." That monomaniacal grind to fight the feeling that he's more than a "little grain of sand" on the beach.
People ask him all the time, 'How does Vern do it all?'
"Maybe I try to do too many things. But I'm trying to find a balance and be as successful in each category…"
How Does He Do It?
"Well, Vern doesn't do it all," he says. "It's always 'We' with me," he says. "I NEVER want people to ever think Pyramid DJs is Vern Shank. I never want people to think Surf 97.3 is Vern Shank. It's all of us…"
"They do say you shouldn't mix friends with business," Vern admits. Business often destroys friendships. But that hasn't been the case with him. "Maybe, I'm naive in thinking that way, but it's worked for me," he says. More than 90 percent of his employees are "true friends."
Vern might say that "Determination, Drive, and a little bit of Insanity" make up the three points of his own, personal pyramid as well as the business one that he and Art continue to ascend, though that mysterious pinnacle, whatever it is, may be nothing more than a mirage.
"I can never see it," he says.
Thank goodness for Surf 97.3 FM…
Entrepreneur Night: The Connection
Vern was an early sponsor of The Entrepreneur Night Movement. He and Pyramid DJs make it possible for great music and announcements, month after month. He never knows what kind of venue he's going to get, except that it'll be hosted by a small business, keeping with the entrepreneurial spirit of the event.
Ky Ekinci, one of the organizers of Entrepreneur Night says this about Vern.
"Vern is one of the best MCs I've known. He knows what to say, when to say it, and how to get the attention of a crowd where the majority are Type-A personalities."
Come meet Vern or and the Pyramid DJs team at one of the upcoming Entrepreneur Night events.